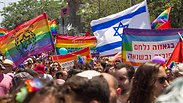 Pride in Haifa
Photo: Ido Erez
Haifa's LGBT community holds largest pride parade yet
3,000 participants constituted the largest LGBT pride parade in Haifa's decade-long history of hosting them; supported by the municipality this year, the parade was attended by Haifa's mayor; said a marcher, 'We came to march, to demonstrate, and to have fun.'
Some 3,000 persons participated on Friday at the largest LGBT pride parade that Haifa has ever seen in its decade of hosting them. The two-kilometer parade route was filled with a sea of rainbow flags, balloons, colorful costumes, music, and dancing.

Haifa Pride Parade (צילום: עידו ארז)

The messages of the parade were social ones of equality for all communities in the city and the country and equality within the LGBT community itself.

Roni, a Haifa resident, marched with a large group of friends. "It's moving to see here so many people. It's the largest (pride) parade that Haifa has ever had, and it's wonderful and emotional. We came to march, to demonstrate, and to have fun."

Oriel, one of the participants, came from Tel Aviv and distributed stickers that read, "I'm attracted to Smotrich" (an MK who self describes as a "proud homophobe"). Last week, Oriel took part in Ashdod's Pride Parade. "It's important because the community is still discriminated against. They don't let us marry because of the ruling rabbinic establishment; they don't let us adopt. We have to continue marching and demonstrating until (we achieve) full equality."




Ofri came to show solidarity and march, even though she is not a member of the LGBT community herself. "I have a ton of friends in the community, and I came to show solidarity with them and to support them and also to support equality for all people," she said.




At the parade's conclusion, thousands gathered for a party full of dancing and performances at Gan HaEm in the Carmel Center neighborhood. The parade was guarded by hundreds of police officers and volunteers.

Haifa Mayor Yona Yahav was amongst the participants; this year, the parade was sponsored by the city. "I think that there's no place like Haifa to express the principles of equality. There's no place more deserving than here to hold the parade," said the mayor.



Municipal Councilor Yossi Shalom, who holds the youth and community portfolio, said that the municipal activities and aid will continue every year for future pride parades in the city.