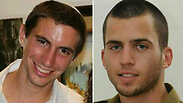 Hadar Goldin and Oron Shaul.
Families demand return of sons' remains as part of Turkey deal
The parents of Oron Shaul, whose remains are being held by Hamas, want the return of their son's body parts – and those of Hadar Goldin – to be a condition of Israel's upcoming reconciliation with Turkey; They plan on pitching a protest tent outside of PM's residence
Zahava and Herzl Shaul, the parents of Staff Sergeant Oron Shaul who was killed during Operation Protective Edge in 2014, spoke with Prime Minister Benjamin Netanyahu, demanding that the return of their son's and Lieutenant Hadar Goldin's remains be part of an upcoming reconciliation deal with Turkey on Thursday. Shaul and Goldin's remains are thought to be held by Hamas, with whom Turkey has significant diplomatic relations. The Prime Minister told the Shauls that he understood their demands, and would later give his answer.

Zehava Shaul saysthat it's well known that the Turks have demands before they agree to any sort of normalization, including some that have to do with Gaza. "It's inconceivable that you'll allow the Turks to mark achievements and (that you will) heed their demands, while our sons are still being held in Gaza. It has to be a high-priority condition for the deal. It's important to us as a people, as a society, as families, and as parents who sent their children to protect the homeland. Two years have already passed," she said.

Meanwhile, Simcha Goldin, father of Hadar Goldin – who's remains are being held captive by Hamas in Gaza – joined in saying that "we view (the reconciliation agreement) very severely."

He added that "this agreement doesn't include the return of our boys Hadar and Oron Shaul to Israel, and this goes against the promises which have come from the Prime Minister's own mouth for the past two years."

He further stated that "the fact that the prime minister signed this agreement proves that the government failed in its first test after Operation Protective Edge, and has awarded Hamas a prize for kidnapping Lieut. Hadar Goldin and First Sergeant Oron Shaul."

He finished by saying "the time has come for Israel to be the one who tells Hamas what price it should pay for kidnappings and for holding soldiers' bodies. It shouldn't be how it has been for the past 30 years – whereby we are the ones who have to pay the heavy price to our enemies."

Ilan Mengisto, the brother of Avera Mengisto who is being held in Gaza, said "our family has completely trusted the prime minister up until now, but this deal which is about to come out makes us worry that my brother has been abandoned to his fate by the Israeli government."

He continued, saying "It can't be that the government will let Hamas abuse an Israeli with a mental condition and leave him (in Gaza) to await his fate, while at the same time giving humanitarian aid to Gaza. Where is the humanitarian aid for my brother? Did you all forget about Avera Mengisto in Gaza?"

The Shauls have also said that they are preparing to erect a protest tent outside of the Prime Minister's residence, much like what Gilad Shalit's father Noam did while Gilad was held captive by Hamas.

The family (not including the parents) will leave for Jerusalem at 8:30am on Sunday from their homes in Poriya Ilit. They will set up their protest tent outside of the Prime Minister's house on Balfour Street. The parents will join the protest on Monday.

Herzl Shaul said that he told Netanyahu that "in every meeting with us you've repeated your promise - that Oron and Hadar will be a priority in any negotiation for any deal, and that there won't be a deal without them. You've repeatedly made that promise, as is expected of a leader."

"This is the time, Mr. Prime Minister; you have the responsibility and the duty to make sure that the agreement with the Turks will not go forwar without this condition being met," he added.

The parents told Netanyahu that "For two years we've allowed all of the state and military organizations to do anything they thought would bring the boys back home - without our intervention. Unfortunately, if anything was done, we have yet to see results. It may be necessary to change (our) thinking and conduct. It appears that the way which you have acted, if you have acted, leads nowhere. We apparently need to act differently so that the other side understands that we shouldn't be trifled with."

Other bereaved parents who lost their children during Operation Protective Edge joined the Shauls in protest. Ilan Sagi, father of Staff Sergeant Erez Sagi, who was killed in a battle in Nahal Oz, said, "There should be no agreement with Turkey before the sons who are being held by Hamas are released. Our patience has run out. It will soon be two years since Protective Edge ended, and the sons' place of burial is nowhere. We were silent up until now, but we'll come out in a large protest in the coming days ."

A letter the protest leaders sent out to bereaved families said, "Dear parents, almost two years have passed since the terrible disaster struck us, and for almost two years the Protective Edge family has had two missing casualties, on whose behalf no one – especially not the government – has been doing anything… The pain of the missing (soldiers') families is all of our pain, our moral duty to the families, and even more – towards the sons who went to fight and did not come back – is (to make sure) they return home for a proper burial."

Meanwhile, the Prime Minister's Office responded saying ""Israel is making constant efforts – both openly and in secret – to bring IDF soldiers Oron Shaul and Hadar Goldin, may their memories be blessed, as well as the two Israeli citizens being held in the Gaza Strip, back to Israel. Israel will not cease its activity until the mission is accomplished."