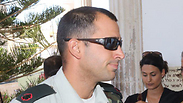 Kfir Brigade company commander Tom Naaman
Motti Kimchi
Another soldier from Hebron shooting case put on trial
Cpl. D., who was present when Hebron soldier Elor Azaria shot Abed al Fatah a-Sharif, a neutralized terrorist, will be put on trial himself for writing a Facebook post accusing Kfir Brigade company commander Tom Na'aman of giving false testimony against Azaria; IDF responded to the accuation, saying D. 'did not see the incident.'
Cpl. D., who came out in defense of Sgt. Elor Azaria, the Hebron soldier filmed shooting and killing a neutralized and disarmed Palestinian terrorist, Abed al Fatah a-Sharif after he had already been neutralized and disarmed, is set to stand trial for writing a Facebook post accusing Kfir Brigade company commander, Major Tom Na'aman of providing false testimony during Azaria's trial.

Na'aman's said that Azaria had shot a-Sharif in the head after it was clear he was no longer a threat. But while Na'aman claims that at first he did not understand what was going on, D. claimed to the contrary, despite an IDF spokesperson having rejected D.'s claims.

"You stood 2–3 meters from the terrorist. Elor was standing in front of you, saying he's going to shoot while cocking his gun, aiming, while my platoon commander pulled you back to protect you from getting hurt. But you still didn't understand that he was shot. Interesting."



While Na'aman now faces new criticism, he recenty received a great deal of support from top military and political offcials.

D also denied Na'aman's claims that a-Sharif did not pose a threat after being neutralized. Moreover, he cast doubt over previous claims that Azaria ever told Na'aman that, "The terrorist is alive and he should be dead." Addressing Na'aman, D. said, "the video clearly shows that Elor wasn't near you when you stood next to the terrorist. I have no idea how he could have told you that he needed to die."

D. went on to rebut Na'aman's various claims. "You said you were angry at (Azaria)? That's strange. You told him to step aside? The way I remember it, after the shooting Elor went into the Palestinian area beyond the blockade with me and the rest of my platoon, to make sure there wasn't a crowd gathering."

Going directly on the offesnive, D. said, "You said you weren't concerned about an explosive device? You didn't even bother checking for one, despite the fact that civilians and paramedics warned us about it. It's good that you weren't concerned, though."

D. concluded his testimony by launching a scathing summary of Na'aman's character. "Every word that left his mouth only highlighted his own self interest, of looking to advance in rank, to the point of praising himself and presenting himself as a responsible, quick-thinking leader, despite the fact that anyone who has seen the video can attest that this just isn't true. I never imagined he would betray his own soldier like this."

An IDF spokesperson released a statement, saying that "Cpl. D. gave his testimony during the investigation. He did not see the shooting performed by Elor Azaria, since at the time he was on another mission."

The IDF rejected D.'s request for a military trial, fearing it would draw further media attention. D. is due to stand trial before a senior officer, while Azaria's trial is set to continue on Sunday.