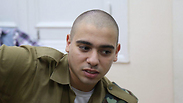 Hebron soldier Elor Azaria
Motti Kimchi
'Get your son a good lawyer,' Hebron ambulance driver tells Sgt. Azaria's father
As the trial for Hebron soldier Elor Azaria continues, new testimonies emerge painting a picture of the details and general atmosphere that led up to Azaria shooting a neutralized Palestinian terrorist; 'We frequently saw videos of Arab terrorists blowing themselves up.'
The trial of Hebron soldier Sgt. Elor Azaria was reconvened on Sunday morning, during which more testimonies were heard and more witnesses cross-examined.

During the day, the defense questioned two investigations conducted by the IDF Criminal Investigation Division. One of the investigators, Yair Magen, was asked to verify that he confronted the platoon commander who was at the scene, telling him that "the terrorist was neutralized and that he no longer posed a threat, despite the fact that he stated the opposite." The investigator responded by saying, "What I meant by that was to ask how could he (the platoon commander) have said that there was an explosive belt if he (a-Sharif) was neutralized and could not detonate such a belt."

Dissatisfied with the investigator's position, the defense sought to discredit it. "Your goal was to bring about a conviction, rather than getting to the truth. Witnesses told you there was concern over the existence of an explosive device and that the soldier acted correctly, but still you claim otherwise."

During his testimony, Magen also mentioned Ofer Ohana, the ambulance driver who was filmed kicking the knife toward a-sharif (allegedly to cover up for Azaria shooting an unarmed man). Magen said, "Ohana agreed to let us search his phone, which was how we found a conversation between Ofer Ohana and the defendant's father." Magen stated that during the conversation, "Ohana suggested to the defendant's father that he get a good lawyer."

The defense attempted to paint a picture of the de rigueur atmosphere for soldiers serving in the West Bank, in an effort to explain the backdrop that led up to the shooting of the neutralized and unarmed Palestinian terrorist, Abed al Fatah a-Sharif. Cpl. T. attempted to depict the general attitude in the area, telling the court, "We would watch videos of Arabs getting blown up."

So far, the most dramatic testimony in the trial had been that of Maj. Tom Na'aman, Azaria's commander, who spoke against the defendant by detailing his shooting of the unarmed terrorist.

His testimony caused on a backlash on social media, as well as a contradicting account from another soldier who came to Azaria's defense. Na'aman received the full backing of IDF Chief of Staff Gadi Eisenkot and former defense minister and IDF chief of staff Moshe Ya'alon, while the newly-appointed Defense Minister Avigdor Lieberman said that he opposes attacks against any soldier serving in the IDF.

Over the next month, the prosecution is set to finish calling its witnesses to the stand, after which the defense will begin to summon its own witnesses. The trial is expected to end by the beginning of 2017.