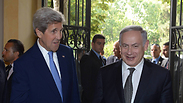 Netanyahu and Kerry in Rome
Netanyahu defends Turkey reconciliation deal
After years of negotiations, Israel and Turkey have officially announced their historic reconciliation agreement, to be signed Tuesday; it includes commitment from Turkey to act against terrorism, provisions for bringing humanitarian aid into Gaza, and an end to civil claims against IDF soldiers and commanders.
The reconciliation agreement between Israel and Turkey has been finalized and is expected to be signed on Tuesday.
Relations between Israel and what was once its principle Muslim ally crumbled after Israeli marines stormed an aid ship in May 2010 to enforce a naval blockade of the Hamas-run Gaza Strip and killed 10 Turkish activists on board.
Turkey expelled Israel's ambassador and froze military cooperation after a 2011 UN report into the Israeli raid largely exonerated the Jewish state. Israel and NATO member Turkey, which both border Syria, reduced intelligence sharing and cancelled joint military exercises.
The mending in relations with Israel raises the prospect of eventual cooperation to exploit natural gas reserves worth hundreds of billions of dollars under the eastern Mediterranean, officials have said.
Amid criticism of the agreement, Prime Minister Benjamin Netanyahu spoke in favor of the agreement at a press conference in Rome on Monday, saying takes into account "the international arena as well as of our security and economic needs, at present and in the future."
The prime minister detailed the merits of the agreement, saying it protects IDF commanders and soldiers from criminal and civil claims—both existing ones and any that might be filed in the future.
"As of now there are very many such claims and their scope is increasing; they could reach many millions of dollars and prevent the free movement of our soldiers, their freedom of activity – all of this is cancelled," Netanyahu said.
"The agreement will ensure that our soldiers and commanders will not be exposed to claims by Turkey. Moreover, the agreement also stipulates that the Turkish parliament will pass a law cancelling all of these processes in Turkey," he added.
Netanyahu meets with Kerry in Rome (צילום: לע"מ)
Another point in the agreement is that it serves to maintain the maritime security blockade of the Gaza Strip. "This is our supreme security interest; I was not prepared to compromise on it. This interest is vital to prevent the strengthening of Hamas and it remains as it has been," he said. "Of course, we are allowing ships to dock at Ashdod port and unload civilian and humanitarian cargoes there for the Gaza Strip. We have never prevented this, of course, and we are making it possible now."
Netanyahu noted that the agreement allows for dealing with the humanitarian issues in the Gaza Strip, while taking into consideration Israel's security needs.
But Turkish Prime Minister Binali Yıldırım said the "wholesale" blockade of Gaza was largely lifted under the deal, enabling Turkey to deliver humanitarian aid and other non-military products.
A first shipment of 10,000 tons would be sent through the Port of Ashdod next Friday, he said, and work would begin immediately to tackle Gaza's water and power supply crisis.
Yıldırım also said the two countries would exchange ambassadors as soon as possible.
As part of the agreement, Turkey has also committed "to prevent all terrorist or military activity against Israel from Turkish soil, including collecting funds for these purposes. This is an important – even primary – commitment that we have not had up until now," Netanyahu said.
Furthermore, Turkey has agreed to remove its objection for Israel to open an office with NATO. "This has been a goal of ours for many years and it is being realized," he said.
Responding to criticism of the deal, Netanyahu stressed that "I don't run the country based on tweets or momentary headlines, rather based on what is good for the nation's security, economic, and other interests," noting however that "this agreement is not free of criticism."
"This agreement opens the way to cooperation on economic and energy matters, including the gas issue," the prime minister insisted. "This doesn't mean we've started a honeymoon period (with Turkey), and I'm not trying to embellish (the agreement). But our critical interests are promoted in this deal."
Netanyahu asserted that "Israel has reached an agreement of strategic importance for the State of Israel, for security, for regional stability and for the Israeli economy."
"The world and the Middle East are in turmoil and my policy is to create centers of stability in this unstable and stormy region. We are doing so with our close neighbors, Arab countries. We are doing so with Greece and Cyprus. We are doing so with Russia. We are also doing so with Turkey. Of course, we are doing all of this in full coordination with our greatest ally, the United States," Netanyahu added.
He then went on to say that "Israel and Turkey are two major powers in the region and the break between us is not good for our vital interests and prevents us from cooperating in those instances, and there are more than a few, in which cooperation is warranted."
Part of the criticism against the deal came from the
families of two IDF soldiers
, whose bodies are being held by Hamas in Gaza, and one Israeli civilian who is believed to also be held by the terror group. The families of Staff Sergeant Oron Shaul, Lieutenant Hadar Goldin, and Avra Mangisto demanded that the return of their loved ones be part of the deal, arguing that Ankara has extensive diplomatic ties with the Gaza rulers.
"Turkey doesn't control Hamas nor does it hold the bodies (of Shaul and Goldin). If (Turkey) were in possession of the bodies, then it could have been possible—but this is simply not the case," Netanyahu said.
He explained that Israel received assurances from Turkish President Recep Tayyip Erdoğan on the matter, and that with these assurances there was a better chance a process could begin to return the slain soldiers' bodies home.
"I understand the suffering of the families. I speak with them and I know what they are going through, and I would like to assure them: I promise you, members of the families, I promise you that we will not stop and we will not rest until we bring the boys back home. This is a personal, national and moral commitment. I think that the letter which accompanies the agreement gives us another tool to use in this holy work," he said.
Netanyahu landed in Rome on Sunday to officially announce and sign the Israel-Turkey reconciliation agreement, together with US Secretary of State John Kerry.
"I think it's an important step here to normalize relations on one side. It has also immense implications for the Israeli economy, and I use that word advisedly – immense implications for the Israeli economy and I mean positive immense implications," Netanyahu said ahead of a meeting with Kerry on Monday morning.
The two also met the night before. "We had a very long meeting last night in which we discussed many different issues," Kerry said, "but we focused significantly on the challenge of beating back terrorism and beating back terrorism specifically with respect to Israel's challenge in the Sinai, in the Golan Heights, where ISIS is now visible, positioned in places, and also the challenge of violence stemming from extremism in Gaza and the West Bank."
Gabi Levi, who was Israel's Ambassador to Turkey in 2010 when the Marmara incident occurred, said in an interview Monday morning that "this crisis should have been ended several yeas ago as all of the parameters of the deal were known. But it's still better late than never."
"The reason the agreement took so long is because of the egos of the two countries. But the personal issues are less important than the relations between countries. There are clear interests between the two countries, and I'm worried that it will take a lot more time until we get back to the deep relations we had before this crisis. But it must all be done through the right processes and not in a flashy manner," the former ambassador continued.
US Vice President Joe Biden praised Netanyahu on the headway made in the reconciliation talks with Turkey, and noted that the security and economic benefits this agreement will have will affect not only the two countries, but also the Middle East as a whole.
Reuters contributed to this report.