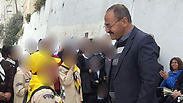 The father of a terrorist who murdered three Israelis in a deadly attack on a bus in the Jerusalem last October was arrested on suspicion of incitement on Monday.

Mohammed Aliyan, a lawyer by profession, was arrested at the behest of the courts on suspicion of affiliation with terror organizations. Police arrived at his home in Jabel Mukaber and began conducting a search of his property. The invsetigation is currently looking into whether he has any ties with Hamas.

Aliyan is the father of Baha Aliyan, who on October 13, 2015, boarded a bus with another terrorist, Bilal Abu Ghanem, armed with guns and axes. The two murdered three Israelis—Haviv Haim, 78, Richard Lakin, 76, and Alon Andrei Govberg, 51—and wounded several others. Baha was killed by Israeli Border Police soldiers while his accomplice was wounded.

Following the attack, Mohammed Aliyan launched a memorial campaign to keep his son's "legacy" alive, whereupon he began lecturing in a number of institutions—including at an elementary school in East Jerusalem and at Al-Quds University—and expressed support for his son's murderous actions.

The police are currently looking into whether, in his appearances, he called on others to follow his example and carry out attacks of a similar nature.

The NGO 'Lach Yerushalayim' (To Thee Jerusalem) brought to light Aliyan's appearance at the elementary school, resulting in the police decision to launch an investigation into the matter. Moreover, school officials are being questioned under suspicion of incitement.

Maor Tzemach, the chairman of 'To Thee Jerusalem,' said, "During recent months we have exposed the incitement activities of Aliyan, who engaged in libel and incitement against Israel. He also undertook extensive efforts to collect funds for the reconstruction of terrorists' homes, which were demolished by security forces in response to terrorist attacks, and engaged in incitement in front of school children."

"(Aliyan) also turned to the Supreme Court to secure the return of terrorists' bodies. Moreover, he mounted a media campaign against Israel. I praise the security forces for arresting Aliyan and call on them to hold him accountable for his actions," Tzemach continued.

Following his son's attack, Aliyan petitioned the Israeli courts to order the release of his son's body, which was being held in Israel. The state often makes the return of terrorists' bodies conditional upon the the families' compliance with certain requirements such as holding a discrete funeral during the night hours, without using the procession as a forum to incite or express support for terrorists.