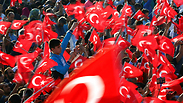 Photo: Reuters
Photo: Reuters
Government ministers approved the Israel-Turkey reconciliation deal on Wednesday afternoon following a heated four-hour cabinet discussion on a deal which was already signed on Tuesday.

As expected, Education Minister Naftali Bennett, Justice Minister Ayelet Shaked and Defense Minister Avigdor Lieberman opposed the agreement. Prior to the cabinet discussions, Bennett and Shaked exited their vehicles to speak to the families of IDF officer Hadar Goldin, IDF soldier Oron Shaul and Israeli citizen Avra Mangisto directly.

Following the agreement's approval, Minister Bennett crticized the deal on the grounds that it would encourage others to seek to harm Israel. "I don't see other states apologizing to those who have attacked them. This sets a precedent that we pay compensation to those who harm us. It could encourage others to harm us."

Outside the government offices, the family of Sgt. Oron Shaul, who was killed and captured by Hamas during Operation Protective Edge, protested against signing of the agreement.

Standing shoulder to shoulder with the Shaul family was Avra Mangisto's family who have also been campaigning to the release of their son who crossed the border into Gaza in September of 2014.

The families argue that since Turkey has great influence with Hamas, the agreement should have been conditioned in Ankara exerting pressure on the Gaza terror group to release the bodies of Shaul and Goldin, as well as Mangisto and another Israeli citizen whose name is under gag order.

Public Security Minister Gilad Erdan said, "My heart goes out to the Goldin, Shaul, and Mangisto families. I promised them I would go to the cabinet and ask the difficult questions before making my decision and I did this. We must do a lot more to bring them home which is why I demanded that a cabinet meeting be held to discuss significantly worsening the conditions of Hamas prisoners."

The Goldin family expressed their outrage at the cabinet's decision: "We deeply regret the decision to sign an agreement with Turkey without including the return of Hadar and Oron, despite what was promised to us by the prime minister."

Attacking the Netanyahu, the family added, "This agreement was lead by the prime minister and was not democratic. It encroaches on the basic values of the IDF and the State of Israel."

On Wednesday, the Goldin family circulated an impassioned letter among all the cabinet ministers urging them not to ratify the agreement which is devoid of a Turkish commitment to securing the release of the missing boys from Hamas' grasp.

"The number one national interest is that our soldiers who are sent to battle know that whoever sends them will do everything to bring them back. The prime minister signed, in an undemocratic fashion, the deal and only after brought it for approval. Are you a rubber stamp?" the letter read. However, it was ultimately to no avail.