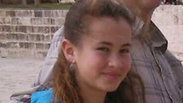 Hallel Ariel was murdered in her bed
Members of the civil security squad in Kiryat Arba prevented an even bigger tragedy from taking place when 17-year-old Palestinian terrorist Mohammed Taraireh broke into a house and stabbed 13-year-old Hallel Yafa Ariel to death in her bed.

The IDF has begun a full closure of the terrorist's hometown of Bani Na'im, and has reported that troops have already entered the terrorist's family home for the purposes of carrying out an investigation.

Yehoshua Gilboa, One of the civil security squad members, was seriously injured during the attack. His wife, Shlomit Gilboa, is a volunteer paramedic for Israel's Magen David Adom, and treated Yehoshua in the ambulance on the way to the hospital.

Shlomit Gilboa recounted the event while at the hospital.

"After my night shift I came home and wanted to go to sleep. My husband came to tell me goodnight, and then we heard on the civil security squad radio that there may be a terrorist climbing the fence. My husband got to the area and was injured – he has a bad eye injury."

She continued, saying "my husband went into the emergency room and they started to try and save his right eye. I wish for all of Israel to pray for him – Yehoshua Chai ben Ester. He is in a lot of pain, and tried with all of his heart to defend our town. We will continue to fight for our land, and we will continue to defend out land no matter what – we will stay in our settlement because the land of Israel is in our hearts."

Shlomit had a feeling that something had happened to her husband. "I went to the main street because I heard an ambulance. I asked the driver to stop, and I helped treat my husband - I stopped his head from bleeding, I bandaged his wounds, hugged him, and told him that everything will be ok and I tried to cheer him up."

"I myself have been going through a difficult time too," Shlomit added. "I have had to treat almost everyone who's been injured (in terror attacks) in the region. I've had to go to families and tell them that their children were murdered."

"I thanked the lord that (my husband) was conscious and that he was ok," added Gilboa. "I can only become stronger and continue to love my nation and my country. You can see this not only in our settlement, but also in Tel Aviv, Herzliya,, and everywhere else. There's nothing we can do, they want the whole country, not just Hebron and not only the West Bank and Gaza."

Dvora Aviad, another Magen David Adom paramedic who was one of the first on the scene said "close to the entrance of the home I saw a girl who was about 13 years of age and a man about 31 years of age who were laying on the ground with stab wounds all over their bodies. The girl was unconscious, had no pulse, and wasn't breathing. She suffered from multiple stab wounds on her upper body. We gave her first aid including CPR, and tried to stop her bleeding. We quickly put her in the ambulance and brought her to the hospital. Her condition was critical."

She also said that the second injured person, Yehoshua Gilboa, "was put into the ambulance for medical treatment and was sent to the hospital completely conscious. He was speaking to us the entire time."

Regarding Gilboa's wife getting into the ambulance with her husband, Aviad said "its really difficult when you are treating someone and all of a sudden someone from your family gets injured. However, she pulled herself together. She felt that it was important that she be there and see him, speak to him, and calm him down. They spoke, and it was really emotional."

Terrorist Mohammed Taraireh, 17, from the village of Bani Na'im climbed over the security fence surrounding the Harsanina neighborhood of Kiryat Arba, infiltrated one of the houses located just yards away from the fence, and stabbed Ariel, critically wounding her. The girl suffered from stab wounds all across her upper body, and was evacuated to the Shaare Zedek Medical Center in Jerusalem where she later died of her wounds.

He then attempted to stab a 31-year-old man who is a part of the of settlement's civil security squad. The man was able to shoot the terrorist to death.

The man is suffering from bullet shrapnel to his upper body and legs. He was evacuated to Hadassah Medical Center in Jerusalem's Ein Kerem.