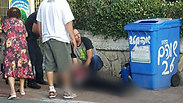 Stabbing in Netanya
Photo: Yaron Gringauz
Two Israelis have been wounded in a stabbing in Netanya on Thursday evening in what is suspected of being a terror attack.
One 40-year-old man was moderately wounded. A 62-year-old woman was lightly wounded. They were both stabbed in their upper bodies.
Magen David Adom (MDA) paramedics were called to the scene to provide treatment, and the injured have been evacuated to Laniado Hospital in Netanya.
The attacker was shot dead at a distance from the scene, paramedics reported. He was a Palestinian resident of a town outside of Tulkarem.