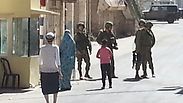 Scene of attack
Photo: TPS
Stabbing attempt in Hebron, IDF marks Kiryat Arba terrorist's home
Female attacker killed after she attempts to stab Israel Border Police soldiers during security check; Terrorist came from same town as Hallel Yaffa Ariel's killer and shared his last name; IDF prepare for home demolition, suspected terrorist collaborator arrested.
A female terrorist was shot after she attempted to carry out a stabbing attack in Hebron at the "Hasam Tzalbanit" checkpost near the Cave of the Patriarchs on Friday morning.
The incident took place during a routine security check when the terrorist suddenly produced a knife and attempted to stab one of the Israel Border Police soldiers. One of the soldiers opened fire and neutralized her. She was pronounced dead shortly after. No Israeli injuries were reported.
IDF shoot female terrorist who attempts knife attack in Hebron.
The terrorist has been identified as 27-year-old Sara Hajaj, a resident of Hebron originally from the village of Bani Na'im. Mohammed Taraireh, who on Thursday morning broke into a house in Kiryat Arba and stabbed 13-year-old Hallel Yaffa Ariel to death as she slept in her bed, also came from the same village. Morever, Hajaj's maiden name is also Taraireh. However, it is not yet known whether she was a relation of Mohammed Taraireh.
Despite the attack, the government has said that it will not be reinforcing the military presence in the areas in which they took place. The attack is the third to have taken place in two days, breaking a comparitively extended period of calm in the wave of terror attacks which have swept accross Israel in recent months.
A few hours after Mohammed Taraireh's deadly attack on Thursday, another terrorist stabbed a 40-year-old man and a 62-year-old woman in Netanya before being shot and killed by a supermarket security guard nearby.
Overnight, IDF combat engineers mapped the home of Mohammed Taraireh in his village on Friday morning and also arrested Mohammad Kabaha on Friday, the 30-year-old man from Jaffa who stands accused of assisting the Netanya terrorist and giving him a ride to the scene.