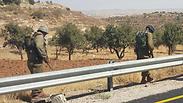 IDF soldiers at scene of Mark-family attack
Photo: IDF Spokesperson
The IDF is running a manhunt for the terrorists who murdered on Friday afternoon Rabbi Michael Mark and wounded his wife, Chava, and two of their children in their car on Route 60. Battalions of Golani soldiers and Paratroopers are providing reinforcements to the Judea and Samaria Division, and a closure is being imposed on towns in the area.

A senior military official relayed, "We've imposed a closure on the entire city of Hebron and on the rural area (surrounding it) to disrupt the (terrorists') movements and stop the series of attacks. We don't know whither the shooting cell fled, and we are currently operating to find them." A large closure such as this was imposed on Hebron two years ago during Operation Brother's Keeper, when three Israeli teenagers were kidnapped.

There are 700,000 Palestinians in the Hebron Governorate who will be influenced by the closure, which will be hermetic at some entrances and "breathing" at others. The entrances to Yatta, south of Hebron, has been blocked, as well as the entrances to the refugee camp Fawwar and some of the entrances to Hebron itself.

The military official also stated, "We've cancelled all the work visas of residents of Bani Na'im, whence the terrorist set out for the attack yesterday (Thursday) in Kiryat Arba," in which 13-year-old Hallel Yaffa Ariel was murdered in her bed.

"One of the reasons for the outbreak of attacks is the end of Ramadan, which will terminate on Tuesday. These days always have more attacks," explained the source. "The second reason: The success of the attacks leads to more attacks, in the absence of condemnation by the (Palestinian) Authority and ceasing incitement."

Until tomorrow night, following the night of Al Qadr—the final Friday night during the month of Ramadan—Palestinians' visits to the Temple Mount have been limited. "We've increased the defense of communities and friction points. This series of operations is large and relative irregular," said an IDF source.

The Jerusalem District Police are also strengthening their forces. Some 3,000 police officers have been deployed across the city, especially in East Jerusalem and on the roads leading worshippers to the Western Wall.

Yoav Zitun, Elior Levi, and Roi Yanovsky contributed to this report.