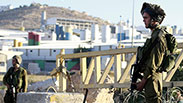 IDF troops impose closure on Hebron
Photo: EPA
Cabinet decides to impose closure on Hebron, build new settler homes
In late-night meeting, security cabinet also decides to cancel work permits for residents of terrorist's village, build cemetery where terrorists' bodies can be buried to avoid having to return them to families for burial; settler leaders: Decision to build 42 new Kiryat Arba homes is an old one.
The security cabinet met on Saturday night in the wake of the recent escalation of terrorism over the last few days to discuss further measures for deterrence, including an old decision to build 42 new housing units in Kiryat Arba, alongside imposing a military closure on the Hebron area.

On Friday, after a terror attack in Hebron on Thursday claimed the life of 13-year-old Hallel Yaffa Ariel, Education Minsiter Naftali Bennett demanded Prime Minister Benjamin Netanyahu to convene the cabinet on Friday night, saying that "terrorists do not observe the Shabbat," but the prime minister decided to wait until after Shabbat.

However, Netanyahu did hold an urgent consultation on Friday, soon after the attack in Hebron, with Defense Minister Avigdor Lieberman, IDF Chief of Staff Gadi Eisenkot, Shin Bet director Nadav Argaman, and the Coordinator of Government Activities in the Territories, Maj.-Gen. Yoav Mordechai.

The senior defense officials recommended the following measures:
Approving the construction of 42 housing units in Kiryat Arba, in a neighborhood close to the house in which Hallel Ariel was murdered;
Cordoning off the entire Hebron district, where 700,000 Palestinians live;
Revoking the work permits of the 2,400 residents of the village Bani Na'im, the hometown of the terrorist who murdered Hallel Ariel and five other terrorists;
Sending two additional brigades to improve security in the area, with emphasis on securing the roads;
Automatically investigating all family members of terrorists and arresting them if they are found to be involved;
Building a cemetery to bury terrorists' bodies, to avoid having to return them to the families for burial.

Even before these measures, the prime minister instructed the Treasury to subtract the sums of money the Palestinian Authority pays terrorists' families as stipends from the tax money Israel collects on behalf of the PA.

"We are in a protracted fight against terrorism. This struggle has ups and downs. We are using various means, including aggressive measures that we have not used in the past," Netanyahu said on Sunday morning at the weekly cabinet meeting.

The prime minister also instructed ministers to combine measures in all ministries to help communities in the West Bank.

Ahead of the security cabinet meeting, Transportation Minister Yisrael Katz (Likud) proposed legislation allowing to expel families of terrorists.

Education Minister Bennett (Bayit Yehudai), meanwhile, has presented a plan to stop what he dubbed as "virtual terrorism," which includes shutting down the internet, and particularly Facebook, in the Mount Hebron area, as social media is used there as a main tool for incitement.

Bennett's proposal includes additional measures, including the expulsion of the family of 17-year-old Mohammed Taraireh, Hallel Ariel's murderer; imposing a full closure on the village of Bani Na'im; the demolition of illegal structures in the West Bank; restricting Palestinian movement on Highway 60 where 48-year-old Miki Mark was murdered on Friday in a shooting attack; arresting Hamas operatives; the construction of two neighborhoods in Kiryat Arba; renewing IDF activity in Areas A and B of the West Bank; launching a small-scale operation similar to "Operation Defensive Shield" in 2002.

"Only drastic action can stop the virtual wave of terrorism," Bennett said. "We must not continue as we were. We have to change our thinking."

Prime Minister Netanyahu's close associates dismissed Bennett's plan and criticized the fact he presented it to the media before bringing it in front of the cabinet. In addition, some of his proposals are already being implemented, they said.

Meanwhile, settler leaders claimed Saturday that the plan to build 42 new housing units in Kiryat Arba is not a new one, and has been approved in the past.

Close associates of Bennett also criticized the decision, saying "this is recycling of old decisions from a year and a half ago. Continuing with outdated actions will not stop terrorism. It's time for a radical change."