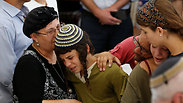 Miki Mark's funeral in Otniel
Photo: Reuters
Thousands have gathered in Otniel on Sunday morning to accompany Michael "Miki" Mark, who was murdered in a shooting attack on Friday, to his final resting place.

The funeral began at the Otniel Hesder Yeshiva, where Miki served as the director, and will later make its way to Jerusalem where he will be buried at Har HaMenuchot.

During a speech delivered by a relative on behalf of Michael's 14-year-old daughter Tehila, who was also injured in the attack, her father's final moments were described: "I saw you in your last moments...You didn't let go of the steering wheel, you didn't try to protect yourself. Until your last breath you tried to save us. I never imagined these would be my last moments with you, but I am proud of you. You are a hero,"

"I miss you, but we will continue to live a happy life for you. God took you because he needs more righteous people with him above. Protect us from there. We love you so much. Tehila," she added.

President Reuven Rivlin, who spoke at the funeral, said he is related to the slain father of 10. "I'm a second cousin to your mother Zelda," the president said.

"I stand in front of your coffin, Miki, Michael, in sorrow and anguish, and with me stand an entire nation, together grieving," Rivlin eulogized.

"Miki, I am sorry to say that I learned about you, only after your death," the president continued. |I learned that you were a loving and beloved father, grandfather and son. An intellectual who was also a man of action. A person who loved hands-on work, but also excelled in the 'house of learning'. A director who was also a guide. A pillar of the community of Otniel, and Har Hebron. A decent man. A modest man, who of gave himself even when he knew he might not receive the same back. Today we acknowledge your actions, the values you instilled and the spirit you inspired in your pupils, your extensive family, and all those around you. You were one of the finest of the fine."

"Terrorism has been with us since the beginning of our national home here, for generations from 1929 through to 2016. But even when our loved ones' blood is spilled, it does not to weaken our resolve," Rivlin added. "We are not afraid. We do not give up. We do not retreat. We do not loosen our hold on the ground. Our roots are deeply planted in the soil of this country. Terrorism will never hit the foundations of our building, never destabilize our hold on the country.

"Jewish blood is not worthless. We promise - over Miki's grave - that we will continue to fight terror unequivocally, and without fear. We will fight, and we will win. The IDF and the security forces will cut down the accursed murderers who killed Miki. Nothing will cure the pain. But the light of the way that Miki paved will not be extinguished. May his memory be blessed, and may his soul be bound in eternal life."

In addition to Rivlin, Justice Minister Ayelet Shaked, Mossad director Yossi Cohen (who is Mark's cousin) and MKs Shuli Mualem and Yehuda Glick also attended the funeral.

Mark's daughter Orit sobbed as she eulogized her father. "My dad, I love you. I can't believe we're saying goodbye. (It feels like) just a moment ago you hugged me and told me you wouldn't leave us, and now God has taken you. We've always said our Father who art in heaven takes only the best," she said.

"My father, how you've added goodness to the world. How you helped others, and all you've done for us. Whatever we wanted, you gave it to us from the heart. And even when we did something wrong, you were always with us. But now we're here and you're not. Ask our Father in heaven to have mercy on us."

Mark's son Yehoshua added, "as the years went by, we've learned more and more about the depths of your soul. Father, you were a man of acceptance, of endlessly giving, of thought. Father, what can I say? My heart shatters. I've drowned in the depths of the loss of you."

Netanel, another one of Mark's 10 children, added that his father was "a polymath, such a great man. Everything you touched turned to gold. You were a man of grace, giving to others without anyone knowing. You did everything with modesty. You dedicated your life to the study of Torah. How can I talk about you in past tense? Every Shabbat I'd come to you for guidance, who will I turn to now?"

"I was sitting and trying to write (your eulogy), and crying," said Mark's 18-year-old daughter, Miriam. "I feel like no words are coming out. You were always with me, always believed in me, always been my father—in the hardest of times. You've given us so much strength. I promise you I'll be strong, and take care of mum and the little ones. Dad, we're together and will stay together. Thank you for the 18 years in which you did not let me fall."

Justice Minister Shaked turned to Orit, Mark's daughter, telling her: "You are right, God truly only takes the good ones."

Shaked added, "Here in Otniel live the pioneers of this land, and God truly only takes the best. First Dafna Meir, and now Miki."

Of Mark, she said, "You've turned this yeshiva into a lighthouse of Torah. You were a man whose energy was devoted entirely to work of Torah and work for the Land of Israel."

Shaked asserted that "our answer to the murder should be building and more building. That is the way of the settlement enterprise. We will find the murderers and if their family also supports terrorism—they too will pay."

Benny Kalmazon, one of the rabbis at Mark's yeshiva, said the residents of Otniel "will continue the meetings and cooperation with the Arabs. We thank our Arab cousins who passed by the scene of the attack and rescued the family members (from the car)."

Rabbi Kalmazon called on President Rivlin to stress to the government that "it must return security to the citizens it is responsible for."

At around 3pm Friday afternoon, a vehicle of Palestinian terrorists bypassed the Mark family car on Highway 60 near Beit Hagai and opened fire at it. Mark was murdered in front of his wife, Chava, who was seriously wounded, and two of their children - aged 13 and 15 - who were also wounded.