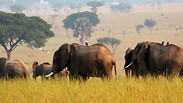 The Ugandan government has chosen Israelis to re-build the east African nation's infrastructure with money from the World Bank. Four decades after Operation Entebbe, Israel will be building a new Ugandan international airport.

The head of this massive reconstruction project is Professor Yigal Tzamir from Tzamir Architects and City Planning whose company is based in Haifa, and will be assisted by Professor Moshe Hirsch.

The Israeli company will also be assisted by local experts and by Ugandan government employees who will be trained by the Israeli company.


They are making a National Master Plan for Uganda similar to Israel's Tama 35 refurbishment plan. The Tama 35 plan states that all of Israel's infrastructure – from roads and airports to parks and cities – will all be refurbished and overhauled by 2040.

"Uganada is home to 65 million people – 10 times the number of Israeli citizens – and it has no plan for the future," said Professor Tzamir. "It's a huge honor that they've chosen Israelis to plan the country, especially at a time when the main construction going on in the country is being carried out by the Chinese. This is a return to the glory days, when Israelis built and planned Uganda in the 1960's."
Protecting the environment
Uganda is known for its nature reserves, including the largest gorilla reserve in the world. However, Uganda has also recently found a large gas field, which should it be developed, may cause environmental damage.

"The plan will focus on finding a balance between environmental protection and economic development," said Professor Tzamir.

Kampala, the capital of Uganda, will receive a lot of attention as it is the economic and urban center of the country.

"The Ugandan government is looking for huge economic growth and significant improvement in its socio-economic status alongside a rise in international status as well as its status in east Africa. And Uganda has chosen Israeli experts to help fulfill this vision," stated Tzamir.

Relations between Uganda and Israel have seen their ups and downs. Israeli companies such as Tehel and Solel Boneh developed all of the infrastructure in the country during the 1960's and early 1970's. The Ugandan Air Force was established with Israel's help, and President Idi Amin visited Israel several times.

However, all relations between the two countries were cut in 1972, and Uganda became an enemy state. Tensions came to a head when an Air France jet was hijacked and flown to Uganda's international airport in Entebbe 40 years ago, prompting a daring Israeli rescue.

Relations weren't restored until the 1990's, and today the relations are considered very good. A large number of Israelis live and work in Uganda.