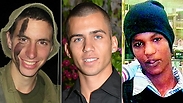 Goldin, Shaul and Mengistu
The families of Lt. Hadar Goldin and Staff Sgt. Oron Shaul have criticized Prime Minister Benjamin Netanyahu and his government following a report on the outlandish demands Hamas has made just to begin negotiations over the return of the two soldiers' bodies, as well as two civilians.

According to the report on Yedioth Ahronoth on Monday, Hamas has set a precondition to beginning talks—the release of 50 prisoners who were first freed in the Gilad Shalit deal and then imprisoned again during Operation Brother's Keeper in the West Bank in 2014 after the kidnapping and subsequent murder of three Israeli teenagers.

In addition, an Israeli official told Yedioth that Hamas will demand hundreds of prisoners in return for Goldin and Shaul's bodies, as well as civilians Abera Mengistu and Hisham al-Sayed.

"Instead of pressuring our enemies, we show them our weakness, and Hamas receives a reward for kidnapping," the Goldin family said in a statement.

"The State of Israel had a golden opportunity last week to change this equation and, as part of the agreement with Turkey, force Hamas to pay the price and return the bodies of Hadar and Oron," the Goldin family went on to say. "While our soldiers are held captive in Gaza, Hamas's prisoners enjoy hotel-like conditions, and can sit and watch the Euro games."

The family criticized Prime Minister Netanyahu, saying "when the prime minister signs agreements that ease restrictions on Gaza and doesn't demand Hamas to pay the price for its atrocious crimes—he is showing weakness, and setting the stage for more demands, including the release of murderers and terrorists.

"We call on all decision-makers - instead of dealing with lowly media spins, act today to change the equation and make Hamas realize the kidnapping of soldiers doesn't pay off. It's time to exact a price from our enemies rather than paying it ourselves."

The Shaul family accused the government of running "a campaign against the families."

"The government wants to talk about the 'price' to bringing back our boys? This is an unprecedented act in which the state and its representatives are mounting a campaign against the Shaul and Goldin families instead of against Hamas," the family said in a statement.

"It's important to stick to the ethical principle. Oron and his friends were sent to fight by the State of Israel. They fulfilled their duty, and were willing to put themselves on the front lines of the battle for Israel's security. Now, the state has abandoned them. Operation Protective Edge may have ended for the politicians, but we left our sons behind. So the war is not yet over."

The Shaul family also offered directed criticism of Netanyahu and his government. "It's been two years and the government has yet to formulate its policy on putting pressure on Hamas. There was talk, and envoys, but zero results, lack of policy, amateur conduct.

"The Hamas terrorists in prison are enjoying generous conditions, the Strip receives 900 trucks carrying luxuries every day, and the family members of Hamas officials receive treatment at our hospitals," the Shaul family went on to say.

"We were shocked to see the quotes from the prime minister's envoys about the handling of the boys' return. Unfortunately, this is all a deception. The prime minister's envoys were given too much credit and they deceived us," the family concluded.

Goldin and Shaul were killed in two separate incidents during the 2014 Operation Protective Edge in the Gaza Strip. Hamas snatched their bodies, and has been keeping them ever since. Mengistu, meanwhile, accidentally crossed the border into Gaza in September of 2014 and has not been heard from since. He is believed to be held by Hamas. Al-Sayed, a Bedouin resident of the south, has also crossed the border into the Strip, also of his own accord, several months later.
'Worsen conditions of Hamas prisoners'
The Goldin and Shaul family also received support from other bereaved families, who argued that worsening Hamas prisoners' conditions as a way to put pressure on the terror organization was preferable to conceding to its demands and releasing prisoners.
"The release of the bodies must be achieved by changing the equation—worsening the prisoners' conditions instead of easing their restrictions," said Yossi Tzur, whose son Assaf was murdered by Palestinian terrorists in a suicide bombing in Haifa in 2003.
He called on the prime minister to only conduct negotiations based on the conclusions of the Shamgar Commission, which determined that "guidelines for negotiations should be set in legislation and rules should be set according to which bodies are returned for bodies, and a living person in return for another living person. One-to-one," Tzur said. "But obviously Netanyahu is not interested in a law that could tie his hands."
Hadas Mizrahi, whose husband chief superintendent Baruch Mizrahi was murdered in a shooting attack on Passover eve in 2014 by a terrorist released in the Shalit deal, expressed her objection to prisoner releases.
"Even before the Shalit deal, we always hoped this (prisoner release) wouldn't happen, because we know what the result would be. It's terrible, and painful," she said.
She bemoaned the fact trials for terrorists drag on, describing the suffering of the victims' families. "You see them laughing in your face and saying 'We'll be released.' Even when they're arrested, they say they're not afraid. 'We'll be out in a few years.' They get a lot of money every month. A terrorist knows Hamas would support him and always take care of him and his family."
The terrorist that killed her husband, she said, "murdered four people and wounded a senior officer—and was still released in the Shalit deal. He did his BA and MA at the State of Israel's expense. They said, 'We'll rehabilitate him and everything will be okay,' but we know that didn't help. He got up and said so himself that when he is set free, he'll continue murdering."
Hadas said that even before the murder of her husband, she was against the release of terrorists. "If, heavens forbid, I were in this situation and it was someone I knew (being held by Hamas)—I would have demanded military action. A deal should never be done, as the freed terrorists will murder another, and that person's blood is no different to the blood of the person on whose account the terrorist was released."
Mizrahi said she spoke to other terror victims "and they agree with me. We will stop it ourselves. We'll send a letter to the prime minister and the president, asking them to stop this."
Ora Mintz from Kiryat Motzkin, whose son Raz was murdered by terrorists in a shooting attack on the road between Ofra and Neit El in 2001, had a different take on the matter. She said that even if it meant releasing terrorists, Mengistu and the bodies of the soldiers must be brought back at any cost.
"While the rabbinate declared the soldiers as deceased, there's always the trace of doubt for the families," she said. "This kind of ambiguousness, in my opinion, is unbearable, and the parents deserve to know for sure. It is also unbearable to me that the bodies of fallen IDF soldiers are not buried in Israel."
"As for the price," she added, "these are the rules of negotiations and if we have not been able to find an alternative that would induce Hamas to return the soldiers—we have no choice but to release terrorists."
"The terrorist who murdered Raz was released in the Shalit deal," Ora continued. "The day of his release was very hard for me and I couldn't stop crying—but I still believe it is better for Gilad's mother to be able to hug her son than for me to feel a false sense of satisfaction that my son's murderer rots in jail."
She also argued life in Israel is not necessarily safer thanks to the jailing of terrorists.