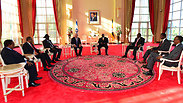 Netanyahu meets with African leaders in Uganda
Photo: Kobi Gideon/GPO
Netanyahu meets with seven African leaders to enhance cooperation
Seven African heads of state met with Prime Minister Netanyahu on Monday at a counterterrorism conference held in Uganda; Netanyahu expressed his desire to enhance not only security relations, but agricultural, economic relations as well.
Prime Minister Benjamin Netanyahu met with the heads of seven African countries to discuss bi-lateral cooperation and strengthening of ties at a counterterrorism summit held in Uganda on Monday.

Netanyahu met with the heads of Ethiopia, Kenya, Rwanda, South Sudan, Tanzania, and Zambia while visiting Uganda on the 40th anniversary of the Entebbe Operation

The summit "heralds the opening of a new era in relations between Israel and the countries of Africa," a joint statement said.

The statement continued, saying " 40 years after the historic hostage rescue operation at Entebbe airport, the world continues to face the threat of international terrorism. The need to unite with regional and global partners in fighting this scourge is more important than ever. At today's summit, the leaders committed their countries to enhancing their cooperation in the fight against terror by sharing intelligence and utilizing new technologies, including in the sphere of cyber security."

The joint declaration further stated that "alongside the countries' common security challenges are shared economic opportunities. The leaders discussed broadening and deepening regional and bilateral cooperation in many fields, including the deployment of new and innovative technologies, water management, agriculture, medicine, renewable energy and sustainable development."


They also discussed upgrading Israel's status at the African Union, saying "(We) look forward to the African Union promptly re-granting observer status to the State of Israel. This step will reflect the friendship and be mutually beneficial to both parties."

Israel held observer status in the Organization of African Unity (OAU), which the precursor to the African Union (AU). The AU's rejection to Israeli observer status was led by then Libyan leader Muammar Ghaddafi. South Africa currently leads the charge against granting Israel observer status. The Palestinians currently have observer status at the AU.

Gaining observer status would help enhance Israel's legitimacy on the continent as well as open doors for bi-lateral cooperation between Israel and other African countries.

Speaking at the summit, Prime Minister Netanyahu highlighted Israel's role in the development of agriculture and anti-terror techniques, and expressed his willingness to share these skills with Africa.

"Israel has fought terrorism and has developed certain capacities which I think are important for the defense of the world against this global onslaught of terrorism," Netanyahu said.

"But equally, we have tremendous opportunities. We've solved our water problem, even though we're a very dry land. We've solved our agricultural problem. We produce, with great productivity, vegetables, dairy. I'm always boasting which cow produces more milk per cow? You would think it's a French cow or a Dutch cow. It's an Israeli cow," he continued.

Speaking about mutual cooperation, the prime minister said "we are eager to share this technology in so many fields with our African friends. We think that Israel now is the best partner that the countries of Africa could have, and it's something that is dear to our hearts."

Quoting Herzl, the prime minister added "Herzl said 'after I liberate the Jewish people, I will go to Africa to help liberate the black people.' We have our African brethren, the Ethiopian Jews, who are in our society, and I personally work every few weeks to help integrate more and more and incorporate in our society."

"I believe in Africa," Prime Minister Netanyahu continued. "I believe in your future and I believe in our partnership for this future. And I believe that this meeting will be seen as a turning point in Israel's ability to reach a broad number of African countries, which is our goal. We want a better future for you, a better future for all of us, and we think we can be your perfect partners. Israel is coming back to Africa; Africa is coming back to Israel."