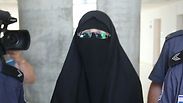 Iman Kanjo tried to join ISIS
An Israeli-Arab woman who tried to join ISIS has received a sentence of 22 months imprisonment and a NIS 30,000 fine.

The woman, Iman Kanjo, 44, is from the northern Israeli town of Shfaram. She was convicted of contacting a foreign enemy agent and trying to leave Israel in an illegal manner by the Haifa District Court. She is a mother to five children.

According to the verdict, "the accused's actions undermine the government and society, and undermine the underlying values and the security of the country and the security of its citizens. The danger posed by the egregious actions of the accused endangered both the lives of the citizens of Israel and the country as a whole, even if this was not the intention of the accused, as she alleges."

Kanjo, who was born in Nazareth, has a PhD in Islamic studies and does not have a criminal record. She is married to the Imam of one of the mosques in Shfaram.

Iman travelled to Turkey in the summer of 2015 with her father, and then went missing.

"We received information that she tried to illegally cross into Syria with the intention of joining ISIS. She failed after she was intercepted by Turkish authorities and extradited back to Israel," said Superintendent Susannah Zendek, Deputy Chief of the Minorities Division of the Northern District's Interrogations Department

Kanjo was arrested at Ben Gurion International Airport on August 28, 2015, and said during questioning that she "identifies with ISIS's ideology," and wanted to "give lectures to the activists there."

Under a plea bargain reached between the prosecution and defense, the accused will serve 40 months in prison alongside paying a heavy fine in addition to the 22-month prison term. She was also given a one-year suspended sentence.

Kanjo's defense attorney claims that a Shin Bet investigation revealed that she never had any intention of harming the security of the State of Israel, that she never supported violence, and that the only reason she wanted to join ISIS was to fulfill her dream of living under Sharia law.

Kanjo spoke before the court and said that she deeply regrets her actions, and wished to thank her family "who stood by her during these difficult times." She says that all she wants to do now is return home and dedicate her life to her marriage and her children.

The judge added during her closing statements that "although the defendant failed in her plans to reach Syria, it is not out of regret that the defendant returned (to Israel) but because she got caught."

"So intense was her desire to join ISIS in Syria that she even hid her plans from her husband and her family, and only shared her secret with her father."