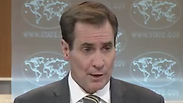 State Department spokesman John Kirby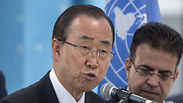 US, UN slam Israeli decision to advance settlement construction
State Department calls plans to build hundreds of housing units in the West Bank and East Jerusalem 'a systematic process of land seizures, settlement expansions and legalizations of outposts that is fundamentally undermining the prospects for a two-state solution.'
Israel has been hit with harsh criticism over decision to advance plans to build hundreds of units in the West Bank and East Jerusalem just days after world powers called on Israel to stop its settlement policy.

"If true, this report would be the latest step in what seems to be a systematic process of land seizures, settlement expansions and legalizations of outposts that is fundamentally undermining the prospects for a two-state solution," Kirby told a news briefing.

UN chief Ban Ki-moon also questioned Israel's commitment to reaching peace with the Palestinians.

"This raises legitimate questions about Israel's long-term intentions, which are compounded by continuing statements of some Israeli ministers calling for the annexation of the West Bank," Ban's spokesman Stephane Dujarric said in a statement.

Ban was "deeply disappointed" that Israel's announcement followed the release of a report on Friday by the Quartet sponsoring the stalled Middle East peace process - the United States, Russia, the European Union and the United Nations.

The long-awaited report said Israel should stop building settlements, denying Palestinian development and designating land for exclusive Israeli use that Palestinians seek for a future state.

The Palestinians want an independent state in the West Bank, Gaza and East Jerusalem, areas Israel captured in the 1967 Six-Day War. The last round of peace talks broke down in April 2014 and Israeli-Palestinian violence has surged in recent months.

The Quartet report said at least 570,000 Israelis are living in the settlements.

Ban "reiterates that settlements are illegal under international law and urges the Government of Israel to halt and reverse such decisions in the interest of peace and a just final status agreement," Dujarric said.

Diplomats said the Quartet report was not as hard-hitting as expected after Prime Minister Benjamin Netanyahu set out to ensure the document was softened.