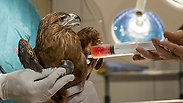 Blood bank for birds
Photo: Yuval Chen
Israel's Wildlife Hospital has decided to open a blood bank for birds that arrive injured to the country during migration.

Every year, large birds, birds of prey and migrating birds arrive in Israel after flying thousands of kilometers. Some arrive exhausted, injured, and in need of medical treatment and sometimes even surgery.

Veterinarians at the Wildlife Hospital realized that they could better treat the birds if they had a blood bank for them because, much like humans, birds have different blood types.

The project, which the hospital says is the first of its kind in the world, is being led by Dr. Elad Smit.

"We already have 16 samples in our blood bank," Smit said. "And now we're considering taking a blood sample from every bird we treat, to aid in the saving of the next bird that would come."

The blood bank has already helped save a common buzzard that was brought to the hospital in serious condition. The blood transfusion the bird received helped it recover, and it has already been released back to nature.

"We know we still have a long road ahead, but this is a significant breakthrough in the treatment of wild birds," said hospital director Dr. Yigal Horowitz. "We're proud to be the first hospital in the world with such a blood bank."