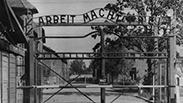 Auschwitz concentration camp (Photo: Associated Press)
Photo: AP
Germany to provide additional $600 million for Holocaust survivors
In an effort to offer more support to Holocaust survivors, the Claims Conference has managed to secure the promise of a substantial increase from the German government; out the sum total, NIS 450 million will be marked for survivors living in Israel, to be used throughout 2016.
In a substantial gain for Holocaust survivors the world over, the Claims Conference (short for the Conference on Jewish Material Claims against Germany) has managed to secure the approval of the German government to allocate $600 million for the home care of Holocaust survivors over the next three years.

The substantial increase in funding was reached during the organization's yearly negotiations with the German government. The agreement will include the allocation of $200 million during the years 2016 – 17, and $400 million during 2018, this in addition to the $1 billion that the Claims Conference had already secured from the German government in 2013.

"We commend the government of Germany for recognizing its continuing obligation to victims of the Holocaust, more than 70 years after liberation," said former US ambassador to the European Union Stuart Eizenstat, who had headed the Claims Conference's negotiations team. "We have worked exhaustively to arrive at this agreement with the German government. Holocaust survivors, now in their final years, should know of our total commitment to trying to ensure they live in dignity, with the help they need."

The Claims Conference currently provides home care for some 67,000 Holocaust survivors around the world. All in all, 121,000 survivors are listed as receiving care through 240 different organizations in 46 states. The new agreement will expand the assistance they receive to offer them further support. Out of the sum total to be marked for improving the well-being of Holocaust survivors, NIS 450 million will be transferred to Israel, which is due to affect the lives of the 30,000 survivors living in Israel today.