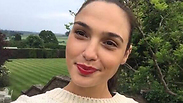 Israeli actress Gal Gadot (Photo: Efrat Sa'ar)
Israeli actress Gal Gadot, recently made famous by starring as Wonder Woman in the film "Batman vs. Superman: Dawn of Justice," is taking part in a more low-key film project that display Israeli strength and diversity by focusing on its women. The project itself is a short viral marketing campaign helmed by two Israeli media students. One of these students, Adi, explained that they "wished to show the world and various audiences a different side of Israel, instead of focusing on its landscapes or the Tel Aviv nightlife."

Meirav, another student involved in the project, explained that Gadot "loved the idea of focusing on women" and that "Gal is always a big supporter of Israel."

The short video begins with Gadot and goes on to present the other "Israeli wonder women," including an IDF pilot, a business woman, a doctor and a competitive surfer.

Gal Gadot in video on Israeli women (אפרת סער)

"Despite the fact that different aspects of Israel have already been shown, we feel Israeli women aren't represented enough," said Shiran, a third participant in the project. "We could have showcased an even larger variety of women, but we still feel it managed to be rather diverse."

Adi stressed that "We believe Israel itself represents strong women. Each one of us is unique in her own right, and it was important to us to let the world see this." Shiran added that for this project, "We felt it was appropriate to turn to a star who represents family values while working toward an incredible international career."