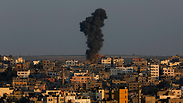 After two years, Operation Protective Edge report still not out
A report on the failures of Operation Protective Edge was supposed to come out on the two year anniversary of the war; However, Zionist Union MK Margalit claims that it hasn't been released due to political considerations; Council heads writing report claim that every detail needs to be analyzed.
Friday marks the two year anniversary of since the start of Operation Protective Edge. However, the inquiry document written by the Foreign Ministry and the Ministry of Defense detailing the operation's failures still hasn't been released.

There have been almost 90 Knesset meetings on the subject of the operation which saw 68 soldiers and four civilians killed.

Erel Margalit (Zionist Union) claims that "it's been two years since the operation and the report still hasn't been released. Political interests are keeping the report from being published."

MK Margalit, himself a member of the Foreign Affairs and Defense Committee which is writing the report, sent a letter to Committee Chairman Avi Dichter (Likud) requesting him to call the council into session to discuss releasing the final report.

"Operation Protective Edge was, by all accounts, full of military and political failures," Margalit wrote. "The discussions we had were with high ranking officials, experts, professionals, and also representatives of the families of those who fell in battle. Following the decision to hold elections (in 2015), we haven't held another meeting on the issue."
Dichter: The report isn't a quick trial
The previous council chairman, Minister Tzachi Hanegbi (Likud) responded to these claims, saying "I didn't write a report – I brought my position to the attention of the Knesset chairman, and told him that the IDF leadership and the Israeli political leadership was well aware of the threats posed by the tunnels, and have been working for many years on how to deal with the threat they pose. All the rest is internal political infighting within the Labor party."

Current Council Chairman Avi Dichter said "when I started this position, I took it upon myself to tie up all of the loose ends. I determined which of the issues left on the table were urgent. The issue of Operation Protective Edge is a very difficult issue about which dozens of meetings have bee held, and it's not something which can be finished quickly. The council's staff is working to collect all of the information for me."

Dichter continued, saying "Erel Margalit knows the facts, knows the considerations, and knows exactly how backlogged the council is. He also knows what the priorities of the council are. Margalit is a contrarian and is wasting his time. This isn't something which we can talk about for an hour and be done with. Its something really big, and I want to see the full picture before we work on it. We will eventually have a good schedule for when we will release the report."