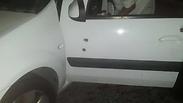 The car which was hit in Gush Etzion
A 30-year-old man was wounded after being shot in a terror attack outside the settlement of Tekoa on Saturday night. He continued driving until he reached a juntion outside of the settelment where he was treated by IDF personnel.
The victim sustained injuries to his hip and was subsequently evacuated to Sha'are Zedek Medical Center in Jerusalem in light-to-moderate condition.
Three bullets were found inside the car, indicating that the terrorist shot at the man from the side of the road.
Davidi Perl, Head of the Gush Etzion Regional council said, "We've had it up to here with the 'lone-wolf intifada.' We had a break, and now they have returned with firearms. The prime minister and defense minister need to make dramatic changes on the ground. We can't have a situation whereby the residents of Judea and Samaria feel like they're driving through a shooting range. There needs to be a change, and there needs to be an immediate return of security to every citizen of Israel."
Israeli security forces immediately launched a manhunt for the terrorist/s who committed the attack. On Sunday morning the IDF encircled the refugee camp of Al-Arroub and Sa'ir in Gush Etzion. Skirmishes reportedly broke out in Sa'ir between Israelis security forces and young Palestinians.