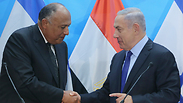 Netanyahu, right, and Shoukry meet in Jerusalem
Photo: Alex Kolomoisky
'Ending conflict would have far-reaching, positive impact on region'
Netanyahu meets with Egyptian FM, calls on Palestinians 'to follow the example of Egypt and Jordan and join us for direct negotiations,' while Shoukry expresses hope to bring conflict to an end, saying 'Egypt remains ready to contribute towards achieving this goal.'
Upon returning from his Africa tour, Prime Minister Benjamin Netanyahu met on Sunday with Egyptian Foreign Minister Sameh Shoukry to discuss the Egyptian initiative to restart Israeli-Palestinian peace talks.

Shoukry's visit is the first of a top Egyptian official in Israel since 2007. After decades of wars followed by a cold peace, Israel has emerged as a discreet ally to Egyptian President Abdel-Fattah al-Sisi.

Shoukry is expected to raise the matter of the French initiative, which Netanyahu has opposed, in addition to the initiative laid out by al-Sisi, which Netanyahu found more agreeable. A second visit by Netanyahu to Egypt may also be in the works.

"I welcome president al-Sisi's recent offer of Egyptian leadership in efforts to advance peace with the Palestinians and a broader peace in our region," Netanyahu said at the beginning of their meeting.

"Today I call again on the Palestinians to follow the courageous example of Egypt and Jordan and join us for direct negotiations. This is the only way we can address all the outstanding problems between us and turn the vision of peace, based on two states for two peoples, into a reality," the prime minister added.

"Today is a continuation of Egypt's longstanding sense of responsibility towards peace for itself and all the people of the region, particularly the Palestinians and the Israeli people, who have suffered for many decadse due to the perpetuation of the conflict between them," Shoukry told reporters before begining discussions with Netanyahu.

President al-Sisi, the Egyptian foreign minister said, is seeking to bring the long conflict to an end.

"Such a monumental achievement would have far-reaching, dramatic and positive impact on the overall conditions in the Middle East region," he said. "Egypt remains ready to contribute towards achieving this goal. We greatly value the trust of both sides and the international community in our commitment to peace, stability and justice."

Shoukry asserted that "the vision of the two-state solution is not far-fetched" but rather required "steps to build confidence."

"It is no longer acceptable to claim that the status quo is the most that we can achieve of the hopes and aspirations of the Palestinian and Israeli peoples," Shoukry said.

The current state of affairs, said the Egyptian diplomat, "is neither stable nor sustainable".

He warned that worsening conditions for Palestinians threatened to undermine prospects for peace. "The plight of the Palestinian people becomes more arduous every day," Shoukry said. "And the dream of peace and security moves further out of the Israeli people's reach as long as the conflict continues."

Al-Sisi offered the 2002 Arab peace initiative as a potential way ahead. The initiative offered full recognition of Israel but only if it gave up all land seized in the 1967 Six-Day War and agreed to a "just solution" for Palestinian refugees.

Shoukry said Egypt was offering "all possible forms of support" to achieve peace and security in the Middle East.

"A multitude of ideas and initiatives have been proposed to make it a practical reality - particularly the Arab peace initiative," he said. "However, achieving this vision requires serious steps to build confidence, as well as a genuine will that does not waver or wane under any circumstance."

Netanyahu has said he would be willing to discuss the Arab peace plan but that changes would have to be made.

A senior Palestinian official said al-Sisi has been trying to arrange a meeting between Palestinian President Mahmoud Abbas and Netanyahu. The Palestinians have been resisting because the Egyptians have not set any parameters for the meeting, and because Netanyahu continues to build settlements, the official said.

In a report published on July 1, the Quartet of Middle East peace sponsors - the United States, European Union, Russia and United Nations - hailed the Arab peace initiative's "vision for comprehensive settlement" of the Arab-Israeli conflict.

Shoukry's visit comes as France leads a renewed push to put peace efforts back on the agenda with an international peace conference held on June 3. The French initiative seeks to bring the two sides back to the table by year-end and was welcomed by the Palestinians.

But Israeli officials have said only direct talks can end the decades-old conflict.

During their meeting, Netanyahu and Shoukry discussed regional issues and promoting of peace and security both in regards to the Palestinians and other regional countries.

Netanyahu also asked the Egyptian foreign minister for his country's help in returning the bodies of IDF soldiers Oron Shaul and Hadar Goldin for burial in Israel as well as the release of two Israeli civilians, Avra Mangisto and Hisham al-Sayed. Shoukry said Egypt would lend its help on the issue.

Officials in the Prime Minister's Office also noted a favorable change in Egyptian attitude "seen in their willingness to publicly display their good ties with Israel."

The two are expected to meet again later in the evening for dinner at the Prime Minister's Residence in Jerusalem.

Agead of the meeting, as pokesperson of the Egyptian Ministry of Foreign Affairs, Ahmed Abu Zeid, said that Shoukry and Netanyahu "will be to discussing the understandings that have already been reached, they will solidify trust between Israel and the Palestinians and renew negotiations, in an effort to arrive at a comprehensive and just solution to the conflict."

Abu Zeid added that as part this joint effort, Egypt is looking to help "establish a sovereign Palestinian state within the '67 borders, whose capital is East Jerusalem."

Two weeks ago, Shoukry met with Palestinian President Mahomoud Abbas in Ramallah. During their conversation, Shoukry reportedly transferred another "important," though secret, message from al-Sisi to Abbas regarding the Israeli-Palestinian conflict.

Following al-Sisi's call for peace last May, Netanyahu expressed a willingness to engage in peace talks with the Palestinians, Egypt and other Arab countries wishing to take part in the initiative. This attempt, however, quickly stumbled upon a serious hurdle after Egypt expressed extreme displeasure at the appointment of the hawkish Avigdor Leiberman (Yisrael Beytenu) as defense minister. In an apparent attempt to appease the Egyptians, Lieberman stated during his inauguration ceremony that "Egyptian President al-Sisi's speech has created a real opportunity, and we must attempt to follow through on it."

Palestinian officials estimated that al-Sisi's influence on the Palestinian leadership coupled with his support for the initiative increase its chances of being adopted. Since Israel and Egypt share important security concerns, Israel will also find it difficult to reject the Egyptian initiative, especially after Netanyahu's recent statement that he is willing to meet and negotiate directly with Abbas.

The Associated Press and Reuters contributed to this report.