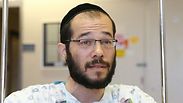 Eitan Finkel
Photo: Ohad Zwigenberg
Terror victim recounts harrowing attack: 'I felt my shoe filling with blood'
Eitan Finkel, his wife Tamar, and their six children were on their way home after spending Shabbat with the in-laws when a terrorist ambushing them opened fire at their car, hitting Eitan; 'the rest of the family came out without a scratch on them, it was a miracle,' he says.
Eitan Finkel, who was light-to-moderately wounded in a shooting attack in Gush Etzion on Saturday night, said Sunday did not notice his injury until driving away from the scene of the attack.

"When we got to the junction, my wife and I saw a terrorist with a machine gun about two meters from us," Finkel recounted from his hospital bed.

"Half of his body was over the roof of the car, and he was aiming at us. We were waiting for the (sound of the gunfire), my wife was yelling and so was I. Why he didn't shoot—I don't know. We took a right turn at the junction and then we heard gunfire. The windshield exploded, I saw that I was still alive, thank God, and I hit the gas and got out of there."

Finkel, his wife, and six children were on their way home from spending Shabbat at the settlement of Metzad with wife Tamar's parents when they were attacked near the settlement of Tekoa in the West Bank.

"About five minutes from the junction we saw a military jeep so I stopped," Finkel said of the moments after the attack. "While driving, I felt like I pulled a muscle on my left leg and realized I must've been hit. I felt my shoe filling with blood. I was afraid to lose consciousness. I stopped near the soldiers and told them I was shot in the leg.

"The soldier wanted to get me out of the car but I told him it was dangerous to stop there," Finkel continued. "He asked me if I could drive and I said 'yes,' so he told me 'Drive, there's an ambulance there.' It was a 10-15 minutes fast drive away. I got there and my wife told me, 'Drive, move a little further.' I said 'That's in, I can't go on anymore,' I felt like I was losing consciousness. I parked my car and my wife went to call the soldiers and they administered an arterial tourniquet."

How did the children react during the attack?

"They didn't understand what was going on. My oldest is seven years old. While driving, I called out to my wife 'What about the kids? Are they okay?' They didn't have time to sleep since but thank God they're already back to normal at kindergarten."

Do you know how many bullets hit your car or you?

"I was hit by one and the rest of the family came out without a scratch on them, it was a miracle. If the terrorist hit me, he could've hit everyone. That was his plan, to hit the driver, or the wheel to stop the car and then shot everyone."

Three bullet holes were found in the family's car, which were likely shot by a terrorist ambushing them on the side of the road.

After the attack, the military imposed a closure on the Al-Arroub refugee camp and on the nearby town of Si'ir as part of the search for the shooter. In Si'ir, IDF forces clashed with Palestinian rioters.