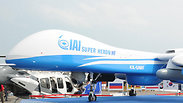 An Israeli drone
Photo: IAI
Israeli drones have reportedly struck terror targets in the Sinai Peninsula several times over the past few years, in cooperation with Egypt, a former Israeli official told Bloomberg in a story published on Monday.
Over the past few years, jihadists affiliated with the ISIS' Sinai branch have made claims that Israel was conducting airstrikes in the Peninsula from time to time using drones, among others, as part of its security cooperation with President Abdel Fattah al-Sisi's regime.
These claims were made more official in recent months in a detailed article in one of the terror organization's publications, al-Naba.
The Egyptian army has been continuing all the more forcefully with its operation to eradicate terrorism in the Sinai Peninsula, particularly in its northern region. Al-Sisi, on his part, has reportedly shown a greater willingness to cooperate with Israel for shared interests.
One such example is al-Sisi's decision to flood and destroy hundreds of tunnels running from the Gaza Strip to the Sinai Peninsula, something that benefited Israel, as well. According to IDF Deputy Chiefo-of-Staff Yair Golan, the two countries have also begun to share intelligence on a much larger scale.
So far, the Egyptian army has been successful in stopping the spread of the ISIS Sinai branch to Central and, more importantly, Southern Sinai. And yet, the terror attacks in the peninsula persist, as the Egyptian army has been suffering great losses.
Responding to Egypt's wish for coperation, Israel has allowed Egypt to deploy additional troops and weapons to Sinai to combat this threat, which deviates from the peace agreement between the two nations.