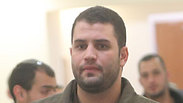 Bilal Abu Ghanem
Photo: Alex Kolomoisky
Bilal Abu Ghanem, who carried out a terror attack on a bus in Jerusalem's East Talpiot (Armon HaNatziv) neighborhood in October, murdering three Israelis, was sentenced on Monday to three life sentences and an additional 60 years—a total of 135 years.

Abu Ghanem, who was convicted of three murders, seven attempted murder, and aiding an enemy in a time of war, was also ordered to pay NIS 250,000 in compensation to each of the victims' families, NIS 150,000 to each of the wounded, and an additional NIS 100,000 to the driver of the bus.

He was convicted after the Jerusalem District Court rejected a plea deal reached between the prosecution and Abu Ghanem's lawyers, because the defendant refused to admit to his crimes. Abu Ghanem also refused to mount a legal defense and his lawyers, Mohammed Mahmoud and Tariq Bargut, agreed to submit all of the evidence without cross-examination.

Abu Ghanem, along with Baha Aliyan, boarded the number 78 bus on October 13, 2015, with Abu Ghanem opening fire at the passengers and Aliyan stabbing them with a knife. Even after running out of ammunition and breaking their knife, the two continued strangling passengers with their bare hands until Border Police arrived at the scene, shooting them both and killing Aliyan.

Three Israelis were murdered in the attack—Haviv Haim, 78, and Alon Govberg, 51, and Richard Lakin, 76—and seven others were wounded.

Bus driver Israel Zaken said after the verdict, "I hope he remains in prison for the rest of his life and not get out as part of a deal."

Maya Rahimi, who was wounded in the attack, added: "I'm glad we reached the end (of the process). To me, this is closure. But my own journey is still long. It's hard for me to return to normal, being afraid to go on buses."

The prosecutor, Uri Korev of the Jerusalem District Attorney's Office, said after the verdict, "The defendant, a known Hamas operative, committed a barbaric slaughter of three innocent people and wounded others. He shot elderly people to death at point-blank range while his partner stabbed them with a butcher knife."