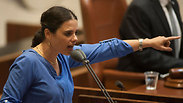 Justice Minister Ayelet Shaked who sponsored the law
The Knesset passed a controversial law Monday that increases the regulation of many Israeli human rights NGOs. The law was approved in the second and third readings by a vote of 57 to 48.

Called a "transparency bill" by its sponsor, far-right Justice Minister Ayelet Shaked, it will require NGOs to give details of overseas donations if more than half their funding comes from foreign governments or bodies such as the European Union. In practice, the law will affect liberal groups almost exclusively because hawkish groups in Israel largely rely on donations from wealthy individuals, which are exempt.

The law requires organizations to state that they rely on foreign funding in all communication with public officials and on TV, newspapers, billboards and online. Representatives of these groups must also declare they depend on foreign contributions to the heads of Knesset committees when participating in meetings. Failure to comply will result in fines.


More than 30,000 NGOs are registered in Israel, about half of them active. Around 70 of those groups deal with the Israeli-Palestinian conflict and receive funds either from the EU as a whole, or individual member governments, including Denmark, Sweden and Belgium, as well as non-member Norway.

"I expect countries (to) ... try to influence Israel in a diplomatic path and not by funding millions of dollars or euros to NGOs that usually try to promote their views," Shaked told Reuters on Monday.

Prime Minister Benjamin Netanyahu has strongly supported the legislation, describing it as "democratic and necessary," and adding there is nothing anti-democratic about requiring transparency so the public is aware of the role of foreign governments in funding these groups.

Addressing members of his Likud party earlier this year, Netanyahu drew parallels with Spain's Basque country where various separatist groups used peaceful or violent means to further their cause. "Try to imagine Israel funding Basque independence organisations," he said.

Opponents of the law argued that the Netanyahu government was trying to target liberal human rights organizations that are critical of Israel's policies toward the Palestinians.

MK Robert Ilatov of the hard-line nationalist Yisrael Beytenu party said he co-sponsored the law because "intervention in Israel's internal affairs is not acceptable."

Previous versions of the bill would have labeled the groups as foreign agents and allowed Israel to tax donations received from foreign governments. One particularly contentious proposal that was later dropped would have required representatives of these groups to wear identification tags while they were in the parliament.

During a debate late Monday that lasted several hours, Israeli opposition lawmakers heaped criticism on the legislation even though it had been toned down.

Opposition MK Nachman Shai of the Zionist Union party said, "We will pay for this damage for many generations."

"The NGO law ... is indicative, more than anything, of the budding fascism creeping into Israeli society," opposition leader Isaac Herzog (Zionist Union) told reporters hours before the vote.

Other opposition lawmakers compared the measure to authoritarian policies in Russia and Saudi Arabia.

The so-called NGO law was approved despite strong criticism from abroad.

The United States and European Union have raised their concerns publicly and privately about the legislation, while German lawmaker Volker Beck, chairman of the German-Israeli Parliamentary Friendship Group, wrote on Facebook Monday that the law would "tarnish the reputation" of Israel.

Nearly all of the Israeli groups that receive more than half their funding from foreign governments are human rights organizations identified with the left.

The anti-settlement group Peace Now announced it will challenge the law at the Supreme Court.

"While the law will delegitimize left-wing organizations, pro-settler NGOs who receive millions of dollars in foreign donations without any transparency will remain unaffected," the group said in a statement.

"It is a law whose only aim is to silence and mark those who dare to voice criticism of the government or against settlements," it added.