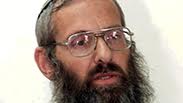 Eyal Karim
Photo: Shaul Golan
IDF's chief rabbi-to-be permits raping women in wartime
Col. Eyal Karim, the IDF's intended next chief rabbi, has previously provided misogynistic interpretations of Jewish law that consider female conscription 'utterly forbidden' and permits raping 'attracting Gentile women' as a way to keep up morale; female MKs and women's rights organizations, incensed, call for his appointment to be cancelled.
Rabbi Col. Eyal Karim, who was announced on Monday as the IDF's intended new chief rabbi, has provoked controversy with previous misogynistic statements, such as opposing female conscription and implying that rape was permissible in times of war.

The 59-year-old colonel was chosen to replace the outgoing chief rabbi, Brig. Gen. Rafi Peretz, who is stepping down after six years in the position. Karim has been serving as the head of the Rabbinate Department in the Military Rabbinate. He is an alumnus of the Bnei Akiva Nachalim and the Ateret Cohanim yeshivas, and he served previously as a combat paratrooper, eventually commanding their elite reconnaissance unit, before taking a break from the military and eventually returning to its rabbinate.

However, a number of Karim's controversial statements that have come to light have cast a shadow on his impending appointment.

For several years, Karim has responded to questions posed to him on the religious website Kipa. One such question was "What are the problems with conscripting girls to the army?"

Karim replied, "In a situation that existed, such as in the War of Independence, that exposed the nation of Israel to an existential threat, and the reality is defined as actually pikuach nefesh (a Jewish concept that requires setting aside most religious restrictions in order to save a life —ed.), then women also participated in defending the people and the country, even though the reality wasn't so modest. But currently, we aren't in a situation of actual pikuach nefesh.

"Because the damage to modesty that is likely to be caused to a girl and to the nation is decisive, the greats of the generation and the chief rabbinate have ruled that girls serving in the IDF is completely forbidden."

The rabbi gave a more shocking answer on the same site when asked if soldiers were permitted to rape women during war. Karim replied that, as part of maintaining fitness for the army and the soldiers' morale during fighting, it is permitted to "breach" the walls of modesty and "satisfy the evil inclination by lying with attractive Gentile women against their will, out of consideration for the difficulties faced by the soldiers and for overall success."

In 2011, the colonel gave an opinion that, according to Jewish law, female singers should not perform at IDF ceremonies. "It's desirable to create a ceremonial post that respects the views of all those present at the ceremony, and, to that end, to bring a male and not a female singer," he wrote. "When this would not be possible, due to various reasons, those whose sensitivities would be offended must be excused from attending the ceremony."

After Karim was announced as the intended new IDF chief rabbi, members of Knesset and women's rights organizations called for the decision to be revoked. The head of the Knesset Committee on the Status of Women and Gender Equality, MK Aida Touma-Sliman (Joint Arab List), said, "Col. Karim's ruling on permitting raping non-Jewish women is similar to the fatwa of a murderous organization that's not so far from Israel's borders. I will contact the attorney general and oppose the appointment, and I call on female and male members of Knesset to join my request."

The chairperson of Na'amat —Movement of Working Women & Volunteers, Galia Wolloch, said that Karim's appointment was unfortunate and that she intended to contact the IDF chief of staff to insist on its revocation. "Anyone who thinks that rape is okay as a morale-booster for soldiers, so long as it's of gentile women, cannot lead the army to good moral and spiritual places."

Meretz Chairperson MK Zehava Galon, announced, "Col. Eyal Karim is not suitable to be the chief rabbinical authority of the IDF, a body in which tens of thousands of women serve, and he isn't suitable to represent Jewish morality in any way whatsoever. His appalling, racist and violent statement makes women fair game."

MK Michael Rozin (Meretz), formerly the executive director of the Association of Rape Crisis Centers in Israel, said, "I demand that in honor of his new position, Col. Karim go through a training course in preventing sexual assaults."

The IDF Spokesperson's Office issued a reply: "Col. Karim asks to clarify that his statement was issued as the answer to a theoretical question and not in any way whatsoever a question of practical Jewish law. Rabbi Karim has never written, said or even thought that and IDF soldier is permitted to sexually assault a woman in war—anyone who interprets his words otherwise is completely mistaken. Rabbi Karim's moral approach is attested by his years of military service in command, combat, and rabbinical positions in which he displayed complete loyalty to the values and spirit of the IDF, in particular the dignity of the person."