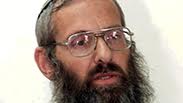 יהדות הרב אייל קרים
Photo: Shaul Golan
Rabbi Col. Eyal Karim, the IDF's selection to be the military's next chief rabbi, was called in on Tuesday to meet with Head of the Manpower Directorate Maj. Gen. Hagi Topolanski following the public outcry over the rabbi's previous misogynistic pronouncements, which included permitting rape during wartime.

Karim expressed regret for his earlier statements and said, "There is no license in times of peace or war to sexually assault women."

Karim, who also stated previously that female induction to the IDF was "completely forbidden," said to Topolanski that women should be drafted, and he added that the supported and believed in women serving in the IDF.

Regarding his statements on religious Jews being exposed to female singing voices at IDF ceremonies, the rabbi stated that he was part of the decision to establish the procedure that permits all soldiers to be present at events where women sing. In the past, he allegedly even ordered—on different occasions—that those present not leave.

A statement from the IDF Spokesperson unit said, "The IDF is the state army of the people, and he is proud to lead the Chief Rabbinate, and he promises to act stately, wisely, and with sensitivity in his position."

Karim , 59, is a Religious Zionist and is an alumnus of the Bnei Akiva Nachalim and the Ateret Cohanim yeshivas. He published many religious recommendations for observant soldiers to help them organize exemptions from activities on the Sabbath, and wrote four books on the matter.

In 2011, the colonel gave an opinion that, according to Jewish law, female singers should not perform at IDF ceremonies. "It's desirable to create a ceremonial post that respects the views of all those present at the ceremony, and, to that end, to bring a male and not a female singer," he wrote in a 28-page opinion. "When this would not be possible, due to various reasons, those whose sensitivities would be offended must be excused from attending the ceremony."

The rabbi gave a more shocking answer on the religious website Kipa when asked if soldiers were permitted to rape women during war. Karim replied that, as part of maintaining fitness for the army and the soldiers' morale during fighting, it is permitted to "breach" the walls of modesty and "satisfy the evil inclination by lying with attractive Gentile women against their will, out of consideration for the difficulties faced by the soldiers and for overall success."