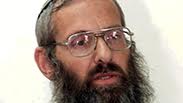 Rabbi Eyal Karim
Photo: Shaul Golan
More controversial comments made by IDF chief rabbi to-be come to light
Rabbi Eyal Karim permitted soldiers to refuse an order if it was 'at odds with Jewish law,' determined that wounded terrorists must be killed and that homosexuals, who are 'sick or deformed' should be 'helped to escape their situation, with a lot of sensitivity and patience.'
Rabbi Col. Eyal Karim, the IDF's selection to be the military's next chief rabbi, may have apologized on Tuesday for controversial comments he made in the past permitting the rape of women in wartime, but his appointment has met with further obstacles as more problematic past statements come to light.

Answering readers' questions on the religious website "Kipa," Rabbi Karim ruled that when a military order is at odds with Halachic (Jewish) law, a soldier is allowed to refuse an order.

"Sometimes, there are questions about the ethics of war that are enshrined in Halacha. An order that is at odds with the Halacha—must not be followed," he wrote. "An order to commit a sin or prevent the fulfillment of a mitzvah (commandment) should certainly not be followed. Just as there is operational alertness, there should be mitzvah alertness."

However, the rabbi stressed that in the case of pikuach nefesh (a Jewish concept that requires setting aside most religious restrictions in order to save a life —ed.) - the order must not be refused.

In 2003, Karim was asked how to deal with a wounded terrorist. "Suicide bombers who were wounded must be killed," the rabbi determined.

In another instance he ruled that "terrorists should not be treated as human beings, as they are 'animals,' and the rule 'He who is merciful to the cruel eventually would be cruel to the merciful' applies to them."

On the topic of women in general and women in the IDF in particular, Rabbi Karim was asked why the Torah forbids women to testify in court. The rabbi responded that this was indeed discrimination, but "a good discrimination for women, as a woman's sentimental nature does not allow her to withstand a cross examination at court."

He also forbad men to serve under women, as this would force them "to focus their eyes on her during most hours of the day."

When asked about homosexuality, the rabbi said gays and lesbians should be treated with love and support, but also referred to them as "sick or deformed," saying they "must be helped to escape their situation, with a lot of sensitivity and patience."

According to Karim, "just as one gender does not need that of the same gender among animals because it is not natural for them—all the more so for human beings."

He further claimed that those with "backward tendencies" could fight these tendencies and change them.

The 59-year-old colonel came under fire this week after misogynistic statements he made in an answer to a Halachic question he was asked 14 years ago came to light. Rabbi Karim was asked if soldiers were permitted to rape women during war.

He replied that, as part of maintaining fitness for the army and the soldiers' morale during fighting, it is permitted to "breach" the walls of modesty and "satisfy the evil inclination by lying with attractive Gentile women against their will, out of consideration for the difficulties faced by the soldiers and for overall success."

He was criticized for not giving a clear answer forbidding rape, which led him four years ago to issue a clarification saying his answer was taken out of context, and that he was speaking of war laws in Biblical times. "Of course the Torah has never permitted the rape of a woman," he wrote. "The law for a 'beautiful woman' (a woman taken captive during war —ed.) is designed to cause the soldier to go back on his intention to wed the captive woman, with a series of actions that hide her beauty and emphasize her personality and sorrow."

The IDF's Spokesman's Office said the rabbi's comments were made in response to a specific question and not a practical one.

On Tuesday, Karim was called in to meet with Head of the IDF's Manpower Directorate Maj. Gen. Hagi Topolanski, following which he expressed regret for his earlier statements and said, "There is no license in times of peace or war to sexually assault women."

Karim, who also stated previously that female induction to the IDF was "completely forbidden," said to Topolanski that women should be drafted, and he added that the supported and believed in women serving in the IDF.