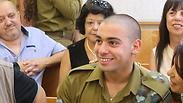 Azaria at court
Photo: Motti Kimchi
A military paramedic who spoke to Sgt. Elor Azaria some two hours after he shot dead a neutralized terrorist in Hebron said Wednesday that he told her he felt in danger because the terrorist moved in the direction of a knife that was close to him, but made no mention he suspected the terrorist was wearing an explosive belt.

This further supports the prosecution's claim that Azaria, who is facing manslaughter charges, changed his version of events after the incident.

At first, Azaria claimed "He's a terrorist who tried to stab my friends, so he deserves to die." Later, he explained: "I felt in danger because he was close to the knife, and moved." And then he claimed he was "Afraid of an explosive belt on (the terrorist's) body."

"Elor told me that there was a terrorist who was neutralized but was still alive and that there was knife close to him. As soon as the terrorist moved his hand and head towards the knife, he (Azaria) felt in danger and that's why he shot him," said the paramedic, Sgt. D.




Sgt. D. said she was not told about a suspected explosive device at the scene of the attack.

"In a phone call between me and Elor after the incident, I asked him what happened. He didn't understand what I meant and was very confused. I asked him if he shot a neutralized terrorist. At first he said he didn't remember, and if I'm not mistaken he said he fired with everyone else. Eventually, his answer was: 'I felt in danger, and that's why I shot him. Because a knife was next to the terrorist.' After the phone call with Elor I called the unit's mental health officer and told him Elor was in panic, and I asked him to talk to him."

When asked about the procedures followed by paramedics and medics in the field, she said, "What we were taught in the military course is that we should treat the most seriously wounded person (first —ed.), and the issue of whether he's a terrorist or not was not addressed. I don't know of a different official procedure other than treating the most seriously wounded person, regardless of whether they're a terrorist or a soldier. If the terrorist Elor shot had a pulse, we would have started treating him."

Her testimony at court on Wednesday morning was in line with the testimony she gave the IDF's Criminal Investigation Division (CID).

On March 24, two terrorists carried out a stabbing attack in the Tel Rumeida neighborhood in Hebron, moderately wounding one soldier. Both were shot and neutralized. One was killed and the other, Abed al Fatah a-Sharif, remained lying on the ground seriously wounded.

A B'Tselem cameramen who was filming the scene after the incident captured Azaria cocking his weapon and shooting a-Sharif, killing him.

Two platoon commanders and the company commander were rebuked by the Kfir Brigade commander for not treating the wounded terrorist and evacuating him to the hospital.

An investigation by the GOC Central Command found that Azaria decided to open fire of his own volition.