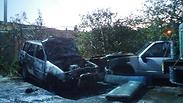 The three teenagers who set fire to cars and spray painted hate speech in the town of Yaffa outside of Nazareth have had their ages and hometowns released by the court. They are all aged between 15 and 16, and they are from Karmiel, Elon Moreh, and Balfouria.

The arson occurred on June 10 in a commercial vehicles compound. Two vehicles were lit on fire. Three other vehicles had the words "price tag" and "revenge' spray painted on them.

Police arrived at the scene and collected evidence, including security camera footage. The footage showed the three teenagers trespassing onto the property and setting fire to the vehicles.

Shin Bet security forces interrogated the teenagers who admitted that they had been planning to torch Arab vehicles out of revenge for Palestinian attacks on Jews. After the Sarona Market attacks, they decided to carry out their plan.

The Shin Bet investigation also revealed links between the teenagers and the Hilltop Youth movement.

Decyphering the attack and arresting the suspects is another step towards thwarting the activities of Jewish terror cells who have been carrying out attacks over the past two years," a Shin Bet statement said.

"The Shin Bet stresses that the enforcement measures which have been carried out over the past several months have led to a significant drop in the scope of violent attacks and terror against Palestinians and Israeli-Arabs."