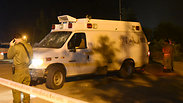 Syrians being evacuated to an Israeli hospital
Photo: Avihu Shapira
The female IDF paramedics treating Syria's wounded
The IDF treats hundreds of Syrians wounded in the bloody ongoing civil war in that country; Two of the women who treat them when they first arrive at the border - Sgt. Rotem Einav and 2nd Lt. Leshem Shirgaouker describe the wounded they've seen, and the thrill of saving a life; Sgt. Einav - 'I wasn't trained to treat Israelis, Jews, or Syrians. I was trained to treat people'
Sgt. Rotem Einav is a paramedic who has been with the 474 brigade on the Golan Heights for the past five months with the IDF Medical Corps. In that time, she has treated over 100 Syrians injured in the Syrian Civil War.

The IDF Medical Corps are the ones who come to the border to give these wounded Syrians first aid, many times saving their lives. They are then put on an ambulance and sent to one of the hospitals in Israel.

While the IDF established a field hospital on the Syrian border during the bloodiest days of the civil war, it closed two years ago. Yet the flow of injured Syrians continues – every day people injured in the fighting between the rebels and the Syrian regime come to the border, some of them in life threatening conditions. The IDF medical personnel also see off the Syrians as they return to Syria – healed, and on their own two feet.

"If they arrive conscious and are able to speak to me, I try to ask them about their condition," said Sgt. Einav

"We also have interpreters who help us with the Arabic to ask them what happened in order to understand how they got injured. If they arrive unconscious, we don't have any information, just what we see. In a trauma situation like this, you have to assume that the person who is injured can have anything wrong with them, and then you determine what's wrong with them via the process of elimination."

She spoke about one instance where "there was an event which resulted in multiple injuries. One of the injured was in really bad shape. The medic dealing with them told me that he couldn't find a pulse on one of the men. The injury itself was really black and blue because of burns amongst other things. He arrived unconscious, and was on a respirator with a bunch of tubes coming out of his body from previous treatment (in Syria- ed). I looked for a pulse, and after some probing I managed to find it. I yelled out 'we have a pulse!' We began artificial respiration, gave him oxygen, medicine, and all of a sudden we saw that the injury's color began to change. It's really incredible to see the changes you can make, especially on a trauma injury."

These daily encounters with the injured, who under different circumstances might have been enemies of Israel, isn't a problem for Sgt. Einav. For her, it's quite the opposite.

"I wasn't trained to treat Israelis, Jews, or Syrians. I was trained to treat people. If I see someone who needs help, someone who is in distress, my moral obligation is to help them. I don't even think about it. I see these people who are injured when they go back to Syria. It gives me the opportunity to see how they've changed medically. We see that they also understand, that they know – and they also appreciate it. It's really heartwarming."
'The sights aren't easy'
2nd Lt. Leshem Shirgaouker, an officer in the IDF Medical Corps, is responsible for receiving the wounded, classifying them, and sending them to the different medical teams to be treated, on top of collecting medical information and sending it to the hospitals where the wounded receive their full treatment.

According to her, "you need to get information from everyone, coordinate it, and then send it onwards. It's usually a huge mess, and you have to collect the information anyway. We recently had six wounded people in critical condition come to us all at once. We weren't sure they would make it to the hospital. I was performing CPR on one of them while talking on the phone and reporting on the situation at the same time. I usually don't treat wounded and coordinate at the same time. I can't miss a single detail because I have to send all of the information to the hospital."

"I used to be a medic in the air force," Shirgaouker continued. "(When I came here) I knew what I'd gotten myself into, but the sights aren't easy. You see them, you need to communicate with them – its something which stays with you. You see it, smell it."

"There was one guy who had a bullet enter his skull and exit through his lower jaw," she said, recalling one incident. "His whole mouth was swollen and full of bandages. It's not pretty, but as a leader, you can't say 'I don't like this – it's too hard for me to look at.' You pull yourself together and tell yourself that even though it doesn't look good, you also need to work."

The 2nd Lt. also said that the humanitarian work that the IDF is doing and the treatment they are giving to wounded Syrians fills her with satisfaction and pride.

"This is the greatest place to find yourself as a medical professional. You're here saving lives. It doesn't matter if they're Jewish, Arab, or an enemy. They're here and they're injured, and I will do everything I can for them. That's the message I give to my soldiers. When I help send them back to Syria and see that their condition has improved - there's no greater feeling."