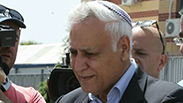 Moshe Katsav
Photo: Avi Mualem
Prisoner Rehabilitation Authority recommends early release for Katsav
Four months after recommending against reducing a third of the former president's prison service, the authority changes its position after meeting with Katsav once more; as part of his rehabilitation, the convicted rapist will have to refrain from defaming his victims.
Four months after recommending not to grant former president Moshe Katsav an early release because he has not expressed remorse for his actions, the Prisoner Rehabilitation Authority is now recommending releasing him immediately and has prepared a rehabilitation program for him.

The change in position came after representatives from the authority met again with Katsav, who is serving a seven-year prison sentence after being convicted of rape and indecent acts.

Katsav appealed the rejection of his early release request, leading the court to order the second meeting with the Prisoner Rehabilitation Authority, which was held on Monday.

In the meeting, Katsav expressed his desire to return home and go through an official rehabilitation program, after insisting in his previous meeting with the authority's representatives that he did not need rehabilitation.

It is believed that ahead of the second meeting, Katsav's family members and lawyers explained to him the importance of cooperating with the Prisoner Rehabilitation Authority.

Due to Katsav's change of heart, the authority changed its position as well and is now in support of reducing a third of Katsav's sentence, saying he is now considered fit for rehabilitation.

The authority prepared a detailed rehabilitation plan for Katsav to follow upon his release, which includes daily Torah lessons as well as regular meetings with a social worker and a psychologist who will help him reenter society. As part of his rehabilitation, the 71-year-old Katsav will have to refrain from defaming his victims.

The Prisoner Rehabilitation Authority's new recommendation will be brought to the parole board that will convene on Wednesday to continue deliberations over Katsav's early release request.

Three and a half months ago, the parole board rejected Katsav's request, determining he was "self-involved, thinks he's a victim, and has no remorse." The rejection was based, among other things, on the Prisoner Rehabilitation Authority's recommendation not to release him.

"We did indeed recommend accepting former president Katsav's request to reduce a third of his sentence after having prepared a detailed rehabilitation plan for him," a senior authority official said. "However, it is important to note this is merely a recommendation, and the members of the parole board can accept or reject the recommendation based on their own consideration."

The parole board will also take into consideration the recommendation of Israel Prisons Service commanders regarding the prisoner's behavior, who said he was a model prisoner.

In addition, the board will consider the recommendation of the State Attorney regarding the danger the prisoner poses to society and the severity of his crimes, among others, as well as the position of Katsav's victims. Both the State Attorney and the victims oppose early release.

Prisoners are only allowed to petition the parole board once every six months, and so the State Attorney is against returning Katsav's request to the board, which deliberated on it in April, before October.

The parole board's decision is also influenced by the prisoner's age and health condition, the prisoner's appearance before the board, and what effect would the early release have on public trust, law enforcement and deterrence.

Katsav started serving his seven-year sentence at the Torani cellblock (a special bloc for religious prisoners —ed.) at the Maasiyahu Prison in Ramla in December 2011.

If the parole board approves his early release request, Katsav will be freed immediately, after having served more than four and a half years behind bars.

While Katsav's close associates were pleased with the Prisoner Rehabilitation Authority's new recommendation, women rights organizations were dismayed by the decision.

"It was not my impression that a criminal who does not admit to his crimes and only smears his victims is fit for rehabilitation," said Na'amat chairwoman Galia Wolloch.

The Women's International Zionist Organization (WIZO) also protested the decision, saying "hundreds of thousands of sexual assault victims suffer all of their lives, without a third or even an hour reduced from the suffering they've been experiencing since they were raped. Katsav's release would be a betrayed of the public trust in law enforcement."