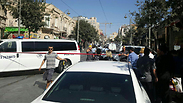 Several pipe bombs were found in the middle of downtown Jerusalem at the Jaffa street light rail stop during Sunday morning rush hour.
A Druze light rail security guard saw a man who arose his suspicions. The guard called the suspect over and began speaking to the man in Arabic. While the first light rail guard was speaking to the suspect, a second guard began searching the bag.
He lifted the bag and felt that it was extremely heavy. He then looked into the bag and saw the pipebombs, whereby the suspect was apprehended and police were called.
The light rail has resumed full service.
The suspect is in his 20s and is a resident of the West Bank. He revealed that he planned to set off several pipe bombs on the light rail following an investigation.
Jerusalem Mayor Nir Barakat thanked the security guards with a special meeting at the Mayors office. He said "We heard the story, and we're very impressed. Both due to the fact that you knew how to look for things which were out of the ordinary, that you managed to see the terrorist, and that you understood that he was suspicious. You saved a lot of lives today."
He continued, saying "Jerusalem tips its hat to you both, and I wanted to invite you both to my office to personally thank you and to hold you both up as examples for the citizens of Jerusalem. Congratulations."
Jerusalem District Police Commander, Police Major General Yoram Halevi, said that "there is no doubt in my mind that a tragedy was prevented. We're in a very sensitive week. Yet nothing is out of the ordinary, we are prepared for anything, for any possibility."
"This type of scenario," commissioner continued, speaking about the thwarted attack, "is a well known form of attack, whereby the terrorist comes and leaves a bag full of bombs somewhere."
Knives were also found in the bag, suggesting "the attack would have continued. After the bomb, there would be people shooting or stabbing the survivors. That means that a giant attack was thwarted today.
Police spokesman Doron ben Amo said "the terrorist aroused the suspicions of the security personnel due to his behavior. The security guard asked him to open up his bag, and the guard saw different colored wires. The guards were highly aware, and this is what enabled them to prevent the terrorist from getting onto the train. This was a thwarted terror attack. It is with out a doubt due to the awareness of the security guards, and the quickness of the police who arrived within minutes, which stopped this huge attack from happening."