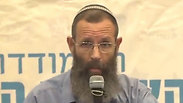 Defense Ministry, Bennett condemn rabbi who called LGBT community 'perverts'
'The Halacha is not meant to be used to divide us or single out people or groups,' says Education Minister Bennett as Defense Ministry director-general seeks clarifications from the pre-army preparatory yeshiva the rabbi heads.
The Defense Ministry, as well as Education Minister Naftali Bennett, on Monday harshly condemned comments made by a rabbi of a pre-army preparatory yeshiva who called LGBT persons "perverts."

Rabbi Yigal Levinstein, a central educational figure in the religious sector, also criticized the IDF for having permitted the LGBT persons to insert their worldview in the military system.

Defense Ministry Director-General, Maj. Gen. Udi Adam, instructed the ministry's Defense Social Branch, which is responsible for the re-army preparatory programs, to seek clarifications from the Bnei David pre-army preparatory yeshiva, which is headed by Rabbi Levinstein. The yeshiva receives half of its funding from the Defense Ministry.

The ministry did not, however, responded to questions regarding the measures it intends to take if the rabbi does not renege on his comments.

Education Minister Naftali Bennett (Bayit Yehudi) also criticized the rabbi's comments, saying "the Halacha (Jewish law) is meant to determine what is permitted and what is forbidden, it was not meant to serve as a tool to divide us or to single out people, identities or sectors. One cannot use derogatory terms against an entire public of people and then hide behind the Halacha. These comments are unacceptable in my opinion. This is not the way of the religious-Zionist movement."

Bennett, who was speaking at the Knesset, added "I'm not a rabbi and I don't pretend to be a great Torah scholar. I cannot interpret the Halacha. But I am a religious Jew who loves the Torah and tries to live according to its laws. I'm also the education minister for over 2 million students, and I am the leader of the Bayit Yehudi movement. And this I know: Reality and life are far more complicated than what's forbidden and what's permitted. It's true, there are things the Torah specifically forbids. But not everyone who goes against the Torah gets kicked out of our midst. This isn't our way.

"Ought we to kill everyone who desecrates the Shabbat?" he wondered. "Has anyone been executed over the past 2000 years for desecrating the Shabbat?"

Bennett was not the only public representative outraged by the comments. Public Security Minister Gilad Erdan, Culture Minister Miri Regev and Opposition leader Isaac Herzog all joined the chorus of condemnations.

"Such statements are dangerous. We need to be careful to not put ideas in some zealot madman's mind," Erdan said. "Let us not lose ourselves. Let us respect every person: his choices, his identity, his belief. I believe this is also the role of rabbis."

"Rabbi Levinstein's comments are offensive and are not appropriate for any public figure and educator," Regev said. "The recognition of the value and importance of the traditional family structure does not make it okay to make statements against those who chose to live differently."
Rabbi to attend Jerusalem Pride Parade
Rabbi Shlomo Riskin, who is among the more liberal voices in the religious sector, also criticized Rabbi Levinstein. "The commandment of 'Love your neighbor as yourself' is the most rule in the Torah. 'Despite having sinned, is still one of Israel.' We must love every Jew and bring him closer to us in the community and at the synagogue and leave the judgment to the Holy One Blessed be He—so long as he doesn't harm another," he said.
Rabbi Riskin explained on Monday that LGBT persons had an exemption from "criminal" responsibility for acts they committed against Halacha laws, because if they are asked to answer to God for their actions, they could claim they were born with these tendencies and had no other choice.
Rabbi Riskin went on to say that if people were indeed born with certain sexual tendencies, then as long as they have not sexually harmed others, they are considered by Halacha as "conversos," Jews who converted to Catholicism in the 14th and 15th centuries after having no other choice. As such, the Torah exempts them.
Another rabbi, Elkanah Sherlo, said that in addition to condemning comments made against the LGBT community, he will also attend the Jerusalem Pride Parade on Thursday.
"A grave comment was made (by Rabbi Levinstein) that has serious ramifications, and this requires strong condemnation and an urgent remedy," Rabbi Sherlo said. "I, as a rabbi and educator of Torah in the pre-army preparatory programs and as a friend, will participate, God willing, in the parade on Thursday in Jerusalem."
Every year, straight religious people attend the pride parade to demonstrate their tolerance towards gays and lesbians, but LGBT groups said that this would be the first time a rabbi will join them.
"Fear dominates the religious, political and social world. Fear of gays and fear of Reformists and the fear of anyone who doesn't think or act like me. I don't want to live like that," Rabbi Sherlo said.
The "Beit Hillel" rabbis organization, that three months ago called for acceptance of all LGBTs, urged the public to participate in an event on "Tolerance and the Acceptance of the Other" held on Tuesday in Jerusalem in memory of Shira Banki, a 16-year-old who was murdered at the Pride Parade in the capital last year.
"We cannot ignore the grave things Rabbi Levinstein said," the organization said. "The humiliating classification of gays and lesbians as 'perverts,' which he repeated several time, is a grave comment that could endanger the lives of others. We call on him to make a public apology for his statements."
Moran Azulay contributed to this story.