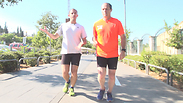 The interviewer and interviewee
Jerusalem's mayor won't attend pride march to avoid 'harm' to religious public
Nir Barkat in an interview stated that, while he supports the right of the LGBT community to march, he considers it damaging to the ultra-Orthodox and National-Religious sectors, exposing a kind of hypocrisy that the LGBT community asks for consideration while failing to do the same for the religious crowd who considers their orientation 'invalid.'
It was one of the hardest and saddest moments in the history of the LGBT community's struggle in Israel. One year ago, on July 30, 2015, Yishai Schlissel drew a knife at the Jerusalem Pride parade and murdered 16-year-old Shira Banki. Thursday, the Jerusalem March for Pride and Tolerance will return to the streets of the capital—but Mayor Nir Barkat will not be one of the thousands who will march in pride and in memory.

"I won't march because I don't want to be part of the harm to the ultra-Orthodox public and the Religious-Zionist public," Barkat said in an interview with Yedioth Ahronoth, Ynet's sister publication.

"The gay-lesbian community receives services in the city of Jerusalem to its satisfaction. Of course, it's their right to march. The Jerusalem Municipality, I, and the police are doing everything that we can to facilitate them to realize their right, but they need to know that this hurts others.

"Tolerance is not just letting people march; it's also looking for the way to get what you want without offending others' opinions or others' feelings. In Jerusalem, there's a large population who has a really hard time with the parade."

Perhaps it is precisely now, after what happened last year, that the mayor should come and say, "I stand at the head of this march, because I will support every disadvantaged population in my city"?

"Don't obsess over the march."

A march is a symbol.

"It's a symbol that has positive and negative complications. So as mayor, I positively support its message and the right of the members to march."

But there's also symbolic importance in a mayor who comes to express his support.

"So you're basically coming and asking me to be part of the harm caused to the ultra-Orthodox and Religious-Zionist population. And I say no; I don't want to harm that population. As mayor, I represent everyone, and therefore I'm on the side of the heads of the community and their rights, and I'll do everything to facilitate their realizing them."

The march in Jerusalem, compared to the Tel Aviv Pride parade, is relatively more serious in tone, and it generally involves a parade of youths and adults with flags calling for tolerance and equality. However, Barkat explained that as mayor, he is responsible for preventing harm to the public's feelings, and that includes the march.

"There's a concept in the Jewish faith that's called 'parrhesia,'" he explained. "Parrhesia says that if somebody unexpectedly runs into something in public, such as nudity or other things, it's something that harms the public's feelings. The gay-lesbian community needs to be considerate, just like the gay-lesbian community demands that the ultra-Orthodox and religious community be considerate."

Barkat disagrees with the "perverts" speech of Rabbi Yigal Levinstein and from the other harsh pronouncements by additional rabbis against the LGBT community. "I think that these statements are superfluous; they're not good," he said. "It just harms a very wide community."

Quite a few, even in Jerusalem, would say similar things.

"You need to understand that halacha (Jewish law) doesn't change. Halacha is halacha, and halacha says certain things, and some rabbis commentate on halacha. In democratic countries in 2016, you need to relate to the rights of various communities in the nation of Israel, and certainly the gay-lesbian community, and uphold them.

"Pluralism in Jerusalem goes in all directions. Get for a minute in the head of an ultra-Orthodox gay who is an expert in halacha at a high level, and he understands this phenomenon as unacceptable, and that's the education that he's been getting. It's the education that he's been getting for two thousand years. Take into consideration the education that he's been getting just like you demand that they be considerate of the gay-lesbian community."