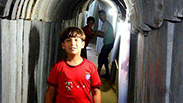 Child visiting the tunnel
Two years following the conclusion of Operation Protective Edge, Hamas is making serious efforts to improve its image amongst the Palestinian population in the Gaza Strip. To mark the second anniversary of the operation, the organization's military wing has opened a special exhibition that displays the various arms used in fighting during Protective Edge.

The highlight of the exhibition is the entrance to an authentic tunnel belonging to the armed wing, the Izz ad-Din al-Qassam Brigades, in the Saja'iyya neighborhood, located in eastern Gaza City and bordering Israel.

This is the first time that Hamas has opened a tunnel to the public as a tourist attraction, as the tunnel project is the most secret and compartmentalized one in the organization. Not only is Hamas displaying the tunnel, but the entire exhibition is free of charge.

A video shared in the Strip shows a group of children entering the tunnel for a tour, which features posters of senior members of the armed wing. The tunnel is not particularly deep, and it appears to be used for transporting forces inside of the Strip and for ambushes of IDF soldiers.

The tunnel is shown to be outfitted with electricity and lights. The children in the video are photographed throughout its length.

The exhibition's arms display allegedly includes those used by a Hamas cell that entered Israel near Kibbutz Nir Am, killing four soldiers.