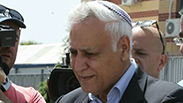 Moshe Katsav in April
Photo: Avi Mualem
Parole board rejects Katsav's early release request for second time
Disgraced president, who was convicted of rape, indecent acts, sexual harassment, will continue his seven-year prison service; lawyers intend to appeal decision to court; parole board: 'As expected, there has been no change in Katsav's position' and he maintains his innocence.
The Israel Prison Service's parole board has decided once again to reject former president and convicted rapist Moshe Katsav's request for early release on Thursday afternoon.
Two of the board members were against releasing Katsav early, while a third was initally in favor but was later convinced to vote against it as well.
Katsav was sentenced to seven years in prison and two years of probation for rape, indecent acts, sexual harassment and obstruction of justice in March 2011, and he began serving in December of that year.
Katsav's lawyer Zion Amir said after the parole made its decision that the former president intended to appeal the decision to the court.
"This important issue will be eventually determined at the district court as part of an appeal," Amir told reporters, adding "this is a difficult day, a sad day, a day in which the principle of equality before the law was undermined."
Amir asserted the decision was a result of "a campaign mounted against (Katsav), of (female) Knesset members who called and tried to contact board members—things that in the rule of law should not be allowed to happen." He added the MKs also spoke to State Attorney Shai Nitzan as part of their "campaign."
Meretz chairwoman Zehava Galon criticized Amir's comments, saying his "tongue-lashing at female Knesset member only shows he doesn't understand that it is our duty to caution that the release of the rapist Katsav is against public interests."
She told Ynet Radio that "we didn't call, we didn't pressure (the State Attorney)—we acted as was expected of us. It's a shame that attorney Amir, who could not convince the parole board of his arguments, is taking his frustration out on us."
Another one of Katsav's lawyers, Yeshoshua Resnick, claimed his client never expressed regret for his actions because "regret is being expressed over something you've done, and Mr. Katsav has constantly said: 'I didn't do the acts I've been indicted for."
Resnick charged that requiring Katsav to receive treatment now, when he was not offered treatment before, "is a decision that only means one thing: 'We don't want to release you because you are the president, you committed a sex offense, you were convicted of rape.'"
During the hearing, Katsav maintained a blank face. When he heard the decision, he was crestfallen, dropping his head and angrily telling the board: "Where was everyone four years ago? No one offered me to undergo treatment, and now you're remembering I haven't undergone treatment."
While the parole board didn't see fit to release Katsav early, they did open up the possibility for the former president to be freed in six months "if he continues treatment for his different problems during his time in prison ... which, it is the opinion of the board members, were what led him to the acts he was indicted for."
The parole board members noted that their deliberations focused on whether there has been any change in Katsav's stance, the fact he continues denying the crimes he was convicted of, the treatments he was undergoing and the treatments he would undergo upon release.
"First, it should be stated that as expected, there has been no change in his stance regarding his culpability of the sex crimes he was convicted of," the board members wrote in their decision. "The undersigned asked Mr. Katsav about this issue, and his response was that there has been no change in his position on the matter."
Rehabilitation plan
The disgraced former president is imprisoned in the Maasiyahu prison's religious prisoners' cell block, where he has been a model prisoner.

The parole board met following a new recommendation from the Prisoner Rehabilitation Authority (PRA), issued last month. Four months after initially recommending that Katsav not be released early from prison, two social workers from the PRA met with him again and issued a new recommendation that advocated his early release.

In his meeting with the PRA social workers, Katsav expressed his desire to return home and go through an official rehabilitation program, after insisting in his previous meeting with the authority's representatives that he did not need rehabilitation.

"I am not free of mistakes and errors," he told them. "The position and power (I had) should have made me to behave differently. All of my relationships with women have been a mistake."

The new opinion issued by the Prisoner RAA, which recommended to release Katsav early, stated that "it is possible to see initial signs of understanding of some of the flaws that led him to take advantage and hurt others and abuse his great power and influence while serving in senior positions. In our view, this is a change—even if only minor—from the previous opinion."

When Katsav was confronted with the previous opinion, which stated he "appeared bothered and occupied by proving his innocence," he claimed "I don't want to prove my innocence anymore. I don't have the energy to fight ... I'm tired, I don't have the energy for anything anymore."

Katsav also told the RAA, "I'd like to disappear into oblivion. I keep thinking back about where I went wrong, I am examining my own actions a lot."

It is believed that ahead of the second meeting, Katsav's family members and lawyers explained to him the importance of cooperating with the Prisoner Rehabilitation Authority.

Due to Katsav's change of heart, the authority changed its position as well and is now in support of reducing a third of Katsav's sentence, saying he was now considered fit for rehabilitation.

The authority prepared a detailed rehabilitation plan for Katsav to follow upon his release, which includes daily Torah lessons as well as regular meetings with a social worker and a psychologist who will help him reenter society. As part of his rehabilitation, the 71-year-old Katsav will have to refrain from defaming his victims.

Following the PRA's updated recommendation, two of his victims spoke up and expressed their opposition to his being released early, charging that it would destroy public faith in law enforcement authorities. The State Attorney's Office also expressed its objection to releasing Katsav early.

A. from the Ministry of Tourism, who was twice raped by the former president, wrote to the parole board ahead of the decision, "His despicable actions, let alone his stubborn refusal to acknowledge them and express regret, together with his distorted perception of reality, seeing himself as a victim and me and all his victims as liars and defamers, clearly shows that he has not internalized the gravity of his actions."

In April, Katsav's request to be released early from prison was denied. In their decision, the parole board wrote, "the prisoner perceives himself as a victim, busy blaming external factors for his condition, is still behaving in a forceful manner and his absorbed with his needs, losses and the price that only he and his family has paid. Even in light of the commission's questions, the prisoner did not express remorse or empathy for his victims, but reiterated the he has paid and continues to pay a heavy price."

Following that setback, the former president wrote to the current president, Reuven Rivlin, to ask for clemency, though to no avail. In his letter, Katsav listed a series of arguments that have to do with his fall from grace, including the lengthy trial, the punishment (which he considers severe), his bad financial state, the hardship inflicted on his family and his desire to rehabilitate himself. He also wrote, "I maintain my innocence."

Meir Turgeman, Yoram Yarkoni, Telem Yahav, Raanan Ben-Zur, Gilad Morag, and Itay Blumenthal contributed to this report