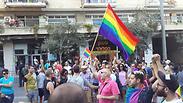 The J'lem pride parade in 2015.
Photo: Asaf Zagrizak
Schlissel suspected of planning to have brother attack Pride Parade
A police investigation has revealed that Yishai Schlissel allegedly conspired with his brother from his prison cell to have the latter perpetrate an attack at Thursday's Jerusalem Pride Parade; Authorities have beefed up the security presence while organizers have called for marchers to lay flowers on the spot where Shira Banki was murdered during last year's parade.
Yishai Schlissel was arrested on Wednesday on suspicion that he had established contact with radical activists in an effort to plan an attack during the Pride Parade held in Jerusalem, it was cleared for publication Thursday

According to information and evidence gathered during a police investigation, Schlissel planned with his brother, Michael Schlissel to attack participants of the march and to stop it from taking place peacefully.

In light of the findings, Yishai Schlissel was arrested from his cell where he is currently serving a prison term for stabbing to death 16-year-old Shira Banki.

Michael also had his arrest extended until Thursday while other members of his family were detained and were then released on a number of conditions, one of which included that they not approach the march.

The Jerusalem March for Pride and tolerance, colloquially known as the Jerusalem Pride Parade, is set to take place Thursday afternoon and will see the deployment of several hundred police officers to protect the expected 5,000 marchers. Authorities are on high alert after Schlissel's attack last year

Marchers will gather at Jerusalem's Liberty Bell Garden (Gan Hapaamon) starting at 16:15, and will begin marching through Liberty Bell Garden, Keren Hayesod St., King George St., Meir Shaham St., Rabi Akiva St., Hillel St., Menashe Ben Israel St. and Independence Garden (Gan Haatzmaut).

Accession into the march will only be possible through the sarting point of Liberty Bell Garden. Similarly, exiting the march path will be allowed through the end point at Independence Garden and through Rabbi Akiva St. In addition, the parade will pass through the same area where last year where Shira Banki was murdered.

Organizers have asked that marchers come with flowers and place them at the spot of the murder as a sign of remembrance. An event conclusing the march will take place in Independence Garden commencing at 19:45, and will be hosted by actress Gila Almagor.

According to police instructions, marchers will be required to undergo security screening at the Liberty Bell Garden, after which they will receive an event bracelet. In addition, marchers will not be allowed to carry arms, even if they are licensed.


Anti-march sentment has not ben the only call for concern among the authorities. The police questioned four women in their 30s overnight Wednesday, after they sprayed pro-parade graffiti on walls and buildings along the intended parade path. They were caught in possession of spray paint and other graffiti equipment and claimed to have sprayed the graffiti in order to encourage people to attend the parade. They were released shortly after questioning.

Other events expected to attract a large turnouts are also set to take place in Jerusalem on Thursday such as concerts by singers Dudu Tasa and Shlomo Artzi, which will likely draw crowds of around 13,000 people. An additional 80,000 are expected to attend various events in East Jerusalem. Special traffic arrangements therefore will be implemented beginning at 2:30pm, when main roads on the pride parade's path will be closed. The Israel Police has updated popular road navigation mobile phone application WAZE about the changes which will, in turn, mark the relevant temporary changes for the benefit of its users.

Starting at 2:30pm, police forces will close the streets where the parade is to take place in addition to some of the streets just off the main route. Roads will be reopened according to the marchers' progress.

Despite attempts by extremist elements to disrupt the parade, Jerusalem Police District Commander Yoram Halevi declared Wednesday that it will take place as planned, on the same route.

Rabbi Dov Lior, one of the senior and most right-wing members of the religious-Zionist sector, called on Tuesday for people to go to the Jerusalem pride parade and take part in a protest organized by the right-wing Lehava organization.

Lior sent a letter to Lehava chairperson Ben-Zion Gopstein, encouraging the protest: "I find it proper to strengthen your hands for organizing the protest against the parade, which the Torah calls an abomination while harming the holiness of Jerusalem and (harming) its residents," Lior wrote. "You join the greats of Israel who protested against acts such as these and saved the people of Israel."

After receiving the letter, Gopstein said, "I am happy that there are great rabbis, who stand without fear and call on the public to come to the protest."