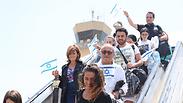 French Jews making Aliyah
Over 200 French Jews immigrated to Israel
An enormous event was held for 206 Jews making aliyah to Israel from France in the largest aliyah flight of the year; While 2012 saw only 1,900 French Jews make aliyah, that number has risen to over 7,800 in 2015; Jewish Agency claims that 10% of French Jewry has made Aliyah since 2000.
More than 200 French Jews arrived in Israel aboard a special Aliyah (immigration) flight organized by The Jewish Agency for Israel in partnership with the Ministry of Aliyah and Immigrant Absorption and Keren Hayesod-UIA on Wednesday.

The new immigrants were greeted by Chairman of the Executive of The Jewish Agency for Israel Natan Sharansky, Minister of Aliyah and Immigrant Absorption Sofa Landver, Minister of the Interior Aryeh Machlouf Deri, and Chairman of Keren Hayesod-UIA Eliezer Sandberg upon their arrival at Ben-Gurion Airport.

This is the largest Aliyah flight from France this summer. Half of the new immigrants were teenagers, children, and toddlers who will join the Israeli education system at the end of the summer vacation. The immigrants also include several families in which three generations—grandparents, parents, and children—made Aliyah together. The majority of the immigrants will make their homes in Netanya, Raanana, Jerusalem, and Ashdod. The flight was planned months ago, without any connection to recent events in France.


Julie Abutbul, who immigrated on the flight with her husband and five children, said "we always knew we wanted to make Aliyah, we just didn't know when."

She was prompted to leave France because "we understood that our lives there aren't normal. The hardest part was to see the soldiers standing around outside of my childrens' school every day."

Regarding integrating into Israeli society, she said "we understand that our absorption process will be difficult, but we hope and believe that here we will be able to have a different life, that we'll be able to find happiness here and start a new life for us and for our children here."

Speaking at the event, Jewish Agency Chairman Sharansky praised the arrival of the French Jews who are coming not necessarily out of persecution, but of their love for Zionism and because they recognize that they are able to strengthen their Jewish identity in Israel.

"We must do everything we can to ease their professional, educational, and personal integration into Israeli society and ensure that they feel at home from the moment they first set foot on our homeland's soil."

Meanwhile, Minister of Aliyah and Immigrant Absorption Sofa Landver touched upon the fact that this massive Aliyah flight occurred right after the terror attacks in Nice. She welcomed them, and praised them for coming to strengthen Israel and Israeli society.

The French Jewish community is the largest in Europe and the third-largest in the world numbering just under half a million Jews. French Jewish immigration to Israel has surged since 2012 when only 1,900 people immigrated from France to the Jewish state. 2014 marked the first time in Israel's history that over 1% of a Western nation's Jewish community made Aliyah in a single year, an achievement repeated in 2015, with the arrival of some 7,800 immigrants from France – the most ever. In total, nearly 10% of the French Jewish community has immigrated to Israel since the year 2000, half in the past five years alone.

In response to this unprecedented Aliyah from French Jews, The Jewish Agency and the Ministry of Aliyah and Immigrant Absorption have developed a special plan to facilitate Aliyah from France and ease French Jewish immigrants' integration into Israeli society. The plan includes efforts to deepen young French Jews' Jewish identity, bring them to experience Israel on a variety of programs, provide French Jews with comprehensive Aliyah information and counseling, remove barriers to employment, and increase the number of Jewish Agency representatives in France.