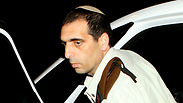 Brig. Gen Ofek Buchris will stand trial after being indicted for rape and indecent assault which he allegedly committed during his previous command in the military. An indictment was issued against him in a special military court on Thursday. Buchris also stands accused of inappropriate behavior.

The IDF Spokesperson's Unit issued a statement on the matter saying, "The individual is an extremely accomplished officer. The Military Advocate General has said that the decision was taken with a heavy heart. However, as part of a thorough investigation, evidence which seemed to corroborate that the officer carried out a number of serious sexual offences against a female junior soldier during her mandatory service, and against an officer when the two served together when he commanded the Golani brigade. The Military Advocate General therefore decided to issue the indictment."

The decision was taken after the Military Advocate General heard the testimony of two reliable complainants over the course of several weeks who appeared to have no ulterior motive for filing a lawsuit. The court also heard Buchris's version of events.

The case gathered pace in March when Buchris was investigated on suspicion of a string of rape charges including of a soldier under his command five years ago in a country villa. He was also accused of sexual harassment of a female officer who claimed that she was harassed by Buchris when he commanded the Golani brigade.
'You took advantage of me'
One of the female soldiers who was allegedly raped wrote him a letter about the incident and about how the incident has negatively impacted her life.

This letter, written two years ago, is one of the central pieces of evidence in the trial against the former head of the Golani battalion. A copy of the letter was published on Israeli Channel 2. Buchris allegedly read the letter when the female soldier sent it and then destroyed it.

"It's not by chance that the IDF outlawed officers sleeping with their subordinates," the letter read, "it comes from a need to protect the subordinates from a situation wherein a commander uses their power and status to obtain what they want, and where the subordinate feels that they must accede to their commander only because of the fact that they have the power to do so. I felt everything that happened occurred through a bizarre and twisted legitimacy. I now understand that at that time I didn't really understand what was happening and that I was blinded by your power and your authority."

"Now, in retrospect," the letter continued, "after processing what happened, I understand that you took advantage of me. You took advantage of my loyalty, you took advantage of my naïveté, of the fact that I wouldn't tell anyone what happened in those side rooms. You took advantage of your power and the knowledge that there isn't anyone who can tell you 'no', even if you gave them the option of doing so. I understand that everything that happened was an exploitation of your position—your ability to put psychological pressure on me as your soldier. Needless to say, the trauma I went through following your sexual exploitation of me as your subordinate affected and hurt me a lot and in many ways. All of my trust in people was destroyed—I can't trust anyone and the way I live my day to day life has been really affected. I told my parents and immediate family everything that happened."
'It never happened'
Buchris is accused of raping three soldiers who were under his command and is accused of sodomizing one of them several times. The high ranking officer, who was supposed to become the head of the Operations Division, was also accused of indecent acts against a female major under his command. There are 17 pages of indictments against Buchris, two of which deal with him committing sexual offenses between 2010 and 2013.



The acts allegedly occurred at his country home, in his offices on base, in his bureau, and even in his military provided car. One instance occurred in the house of one of the victims.

After the publication of the Military Advocate General's decision on the filing of indictments, Buchris maintained his innocence, claming that "it never happened," when confronted outside of his house.

"This is a battle for my life and I intend to win. We were astonished by the decision to indict me. No matter what happens, everything will be clarified in the courts. I'm sure that when the issue will reach the courts and the proceedings become public, everyone will see the truth—the truth will come to light."