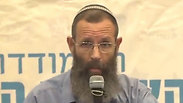 The head of the IDF preparatory yeshiva, Rabbi Yigal Levinstein, was invited by the chief of staff of the defense ministry, Maj. Gen. Udi Adam in the IDF headquarters in Tel Aviv on Thursday to discuss his comments which he recently made calling LGBT people "perverts."

During the conversation Rabbi Levinstein informed Udi Adam that he continued to hold the views espoused during his speech against the LGBT community and that he has no intention of retracting his comments.

Head of another IDF preparatory yeshiva Rabbi Eli Sadan also joined Rabbi Levinstein for the discussion during which Adam emphasized the severity of the remarks condemning the IDF's values and the LGBT community. He further stated that they were unacceptable to the IDF and the security establishment.

In this vein, he demanded that Levinstein clarify his statements in the coming days, a demand which should carry force given that his offices fund Levinstein's preparatory yeshiva.

Adam emphasized that the "IDF value code" pamphlet which every IDF soldier is obliged to carry, contains a clause entitled: "human respect" as one of its fundamental guiding principles. It reads: "Every person is valuable regardless of his ethnic origin, religion, nationality, gender status of profession."

Citing this phrase, Adam said, "I have no doubt that the removing the LGBT community from outside the scope of society is contrary to the most fundamental values of the IDF."

On Wednesday, hundreds of rabbis came out in support for levinstein penning a letter stating: "The love toward every human being from Israel and the obligation to show respect to every person cannot be used as a reason to twist the religious truth or to cut corners regarding forbidden acts."

"It is the duty of a rabbi in Israel to deal with all religious or moral matters in a clear fashion as teachers in Israel. In this vein, we reject the attempt to shut the mouths of rabbis in Israel," the letter continued.