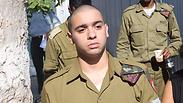 Sgt. Elor Azaria claimed in court on Sunday that he shot dead a wounded terrorist in Hebron because he sensed "clear and present danger."

"I acted because I saw the clear and present danger. I felt I didn't have a choice, and that this could have ended with casualties," the soldier said.

Azaria, who was charged with manslaughter, began his testimony to the court on Sunday and is expected to testify for two additional days.

Azaria began by describing the general atmosphere in Hebron, where he was serving with the Kfir Brigade.

"In that area of operations, the magazine is always in the weapon because there is a lot of friction there, and you are under constant threat. There is always a feeling of tension in the air, especially in Tel Rumeida, which is the site of most friction between Palestinians and Jews anywhere in the world. It's a stressful place," he said

"You can't walk through Hebron like you can in Tel Aviv. There is always fear in the air. You hear shooting and explosions at night when you're trying to sleep, he went on to say.

Speaking about the incident itself, Azaria recounted, "I was in the guard tower at the Jilber checkpoint, close to where the incident took place. We were there in order to stop terror attacks. We were briefed about the rules of engagement and when to open fire during the briefing, along with talking to us about intent and ability (for terrorists to carry out attacks –ed), and stabbing attacks. In one of the briefings, one of the company commanders told us that we shouldn't walk around with the Mak Porek (a kind of safety bullet –ed.) in place in certain areas of the city due to the tensions."

He also addressed the rules of engagement, saying "No one has spoken to us about what to do when there's a bomb, or a combined attack. I heard the Yehuda Division commander saying if there was a knife attack it's unlikely there'll be a bombing. We saw last week in Jerusalem that there was a terrorist with both a bomb and knives."

"The fact soldiers aren't briefed on explosives is a mistake that can cost lives," he said in criticism of his commanders.

Recalling the incident itself, Azaria said: "I was sleeping right before the incident. That morning, one of the soldiers came into my room and said 'Elor! Wake up! There's an emergency!' I woke up quickly and ran to the company commander's office and he wasn't there. I didn't understand what was happening at all. I ran to the gate and asked what was going on. The guard at the gate told me that there was a terror attack, and that A. was stabbed. I ran to the area of the attack, and the company commander was there and told me to begin treating A."

"I saw blood spurting out of A.'s wound," Azaria continued. "I pressed down on the wound with my hands—he was bleeding really heavily. It was the first real injury I treated."

"I tried to calm down A.," he said. "He was evacuated on a stretcher while things were still crazy around us, when all of a sudden people—I don't know who exactly—stated screaming and shouting 'careful! It looks like he has a bomb! No one touch him until the sapper arrives! Look, he's moving! Make sure he doesn't jump up and attack us! It looks like he's booby trapped!'

"I looked at him and saw that he was wearing a black coat, and that there was a bulge in it—as if there was something hidden inside," he continued.

"I remembered the warnings we got about the possibility of a huge attack. I thought that perhaps this was the attack they were warning us about. There was supposed to be a Purim festival parade with hundreds of children from the Tel Rumeida area to Kiryat Arba.

"I saw the terrorist move his head and hand," he continued."I remembered the videos of attacks we were shown. I looked again at the terrorist, and he was moving his hand, and it seemed very suspicious to me. I thought that this was the attack that they warned us about," he said.

"I took my weapon," he recalled, "and I gave my helmet to the soldier who was standing next to me. I pointed my weapon 60 degrees into the air and cocked it, and was adjusting sights. I was yelling at people who were just standing there, 'move! Get back!' Then, from 7-10 meters away, I shot the terrorist once in the head."

Azaria then explained that he shot the terrorist in the head instead of the body because he didn't want to set off the bomb in case there was one. "It's not a shooting range where you wait for your commander's order to fire. If you see a clear and present danger, you're supposed to act."

He added that "one of the commanders explained to me in the past that 'the only way to neutralize a terrorist is a bullet to the head, because the brain sends commands to the body.'"

"I shot him to neutralize the threat," he continued. "There was a knife next to the terrorist. The way the terrorist was dressed was suspicious, especially in light of the warning we got regarding the potential Purim attack."

Azaria denied some statements attributed to him, saying "I'm pretty sure I didn't say the sentence 'A terrorist should be killed' after the shooting. Maybe my words were misinterperted. I might have said a terrorist needed to die to not pose further danger."

He also argued that if he had shot the terrorist to take revenge for attacking his friends, "I would've shot the terrorist at point-blank range and not from 7-10 meters away."

Azaria claimed that the videos from the scene of the attack did not faithfully present everything that happened. "When you're sitting at home, you see things differently. In the field, you can suddenly end up dead."

Azaria claimed that he was under a lot of stress after the incident because it was the first time he had treated a serious injury, and the first time he shot someone.
'The company commander slapped me'
In implied criticism, Azaria asserted that "The scene wasn't closed off at all. People were just standing there. My hands were still covered in A.'s blood. There was tension, and it felt like a warzone.
"It was as if the entire incident was over, with the civilians who were there yelling and the photographers who were trying to come onto the scene despite the fact that it was supposed to be a closed off military zone. From what I saw, the scene wasn't being controlled like it was supposed to," he said
"There very well could have been a secondary attack there," Azaria added.
Azaria continued his criticism of his commanding officers, noting that the terrorist's knife " was close enough for him to reach out and grab it. The commanders were completely complacent and weren't even dealing with the terrorist. The company commander was speaking on the radio and wasn't aware of what the others were saying (about the potential bomb). They weren't acting as commanders ought to act."
On Tuesday, Azaria sought to add more details to his testimony to the IDF's criminal investigation division (CID), claiming his company commander, Maj. Tom Na'aman, slapped him several times after the incident while the officer was questioning the soldier about the shooting.
At court, Azaria stated, "I answered the company commander's questions, telling him I was the one who shot (the terrorist). He yelled at me 'What are you doing? Are you f***ed up?' He slapped me twice."
After being hit by his commander, "I explained to him that I was worried about the situation, about the knife that was close to the terrorist. I also explained to him about my suspicions that the terrorist had a bomb. But the commander cut me off and told me that the terrorist was finished and was dying," Azaria said.
"I almost couldn't get a word in edgewise when I was telling my commander that I was worried" that the terrorist might continue to attack, he added.
Azaria went on to say he felted "betrayed," accusing his company commander of humiliating him.
"I heard my commanders lying here," he charged. "They've made a mistake and they want to protect themselves. They didn't want to listen to me."
He also leveled accusations at IDF Chief of Staff Gadi Eisenkot and former defense minister Moshe Ya'alon, saying "I've been hearing comments made by the defense minister and IDF chief condemning me and not waiting for the legal proceedings to conclude or to hear my version. I've lost all trust in the top echelons of the IDF and in the defense minister. I was thrown to the dogs to please the media and the world."
"I've been abandoned, made into a scapegoat just so the army can clean its hands," he added.
Both Ya'alon and the IDF declined to comment to Azaria's accusations.
In late March, two Palestinian terrorists armed with knives stabbed a soldier at an IDF post near the Tel Rumeida neighborhood in Hebron, moderately wounding him. The two were shot and neutralized by soldiers from the IDF's Kfir Brigade.
A video filmed several minutes later by B'Tselem volunteer Emad abu-Shamsiyah shows one of the terrorists, Abed al Fatah a-Sharif, lying on the ground motionless, when an IDF soldier, Azaria, aims his weapon at him and shoots him in the head.
A pathologist testifying earlier in the trial determined that a-Sharif was alive when Azaria's bullet hit his head.
Azaria is the first witness for the defense, after which will be several military experts. The expert witnesses are expected to testify that there was indeed suspicion of a bomb, and that Azaria acted in accordance with IDF protocol.
Psychologists who have examined Azaria will also be called to the stand to testify, and are expected to confirm that the defendant acted under extreme pressure due to the fact he feared there might be a bomb on the terrorist.
Also, several retired generals are expected to come to Azaria's defense and argue that the statements made by high ranking officials such as IDF chief of staff Gadi Eisenkot, former defense minister Moshe Ya'alon, and the IDF Spokesperson's Unit have all influenced the investigation.