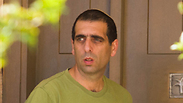 Brig. Gen. Ofek Buchris
Photo: Ido Erez
Contradictions arise in disgraced IDF commander's claims
Despite publicly claiming nothing had happened with women who complained against him, Brig. Gen. Ofek Buchris admitted to the CID he kissed one of them; 'We got carried away once,' he told investigators; Maj. Gen. Hacohen harshly criticized for comparing Buchris to King David; name of one complainant exposed on Facebook.
Despite vehemently denying in public any inappropriate conduct, Brig. Gen. Ofek Buchris has reportedly admitted to kissing one of the two women who complained against him in his interrogation at the IDF's criminal investigation division (CID).

Buchris was charged with rape, indecent assault and inappropriate behavior on Thursday, which he allegedly committed during his previous command in the military.

From the moment the story broke, and even after the indictment against him was filed last week, Buchris has denied having any physical contact with the two complainants.



In a private polygraph test, taken shortly after the story broke, Buchris said, "This never was and never existed. Not sex, not even stroking."

Later, one of his friends attested, "He insists nothing happened."

On Thursday, after the indictment was filed against him, Buchris delivered a statement to the press outside his home, publicly addressing the allegations for the first time.

"This never was and never existed," he claimed. "I've decided to respond to the media, in an unusual move, after having kept silent for almost five months, because I owe an explanation to the public I've been serving my entire adult life. We were shocked about the decision to file an indictment."

But he told a different version of events to the CID, according to a report on Channel 2 on Friday night.

"There were hugs, maybe kisses," Buchris reportedly told his interrogators. "It was consensual. There was one time in which we kissed, and later we had a conversation in which we said this was a one-off thing, that we were going to stop immediately. People shouldn't think there was a romantic relationship. We got carried away once. We kissed on the cheek and then on the lips and that's it... it happened in (kibbutz) Nahal Oz, in some office."

Over the weekend, Buchris received support from his former commander, Maj. Gen. (res.) Gershon Hacohen, in a comment that caused outrage.

In an interview with Army Radio on Friday morning, Hacohen said, "We must remember Buchris's bravery, despite the serious acts he is accused of. I'm with the Bible on this. David remained the King of Israel despite the fact it was clear what happened with Bat Sheva."

Hacohen was harshly criticized for praising Buchris while blatantly ignoring the allegations against him, and issued an apology on Saturday night.

"I did not condone heroes taking the women of the IDF, that's outrageous," he said. "I didn't mean to defend him; I meant to say that the man has rights. Did I dispute the incitement? No. All I did was say this is a hero that soldiers followed, and this cannot be taken away from him. The fact he did bad things—God preserve us. Those who understood (from my comments) that he could be king like David—misunderstood. That's not what I meant and I apologize."

Meanwhile, the name of one of the two women who complained against Buchris was exposed on Facebook on a page supporting in support of the disgraced officer that has over 8,500 followers.

This is considered a criminal offense, as the law forbids exposing the identity of complainants in sexual offenses without their explicit consent.

One woman posted the complainant's name on the page, writing "Why did you beg to stay in the army with Buchris? Is this the behavior of a serial rape victim? Or perhaps it was fun for you to imagine and delude yourself into thinking that an officer in such a high rank was interested in you? Your allegations in the indictment are so serious and described well. Do you have evidence to any of these allegations? You are indeed a girl with a very rich and developed imagination. Perhaps you should use it to write a good book instead of ruining people's lives."

Adva Azar, who runs the Facebook page in question, denied involvement in the exposure of the complainant's name and said she worked to remove any mention of her identity as soon as she learned of the post. While Azar, who served in Golani's 51st Battalion which Buchris was in command, is in contact with his relatives, she stresses the page is not officially linked to Buchris or his lawyers and is a private initiative of hers.

Police said Sunday that it would investigate the leaking of the complainant's name.