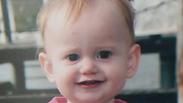 1-year-old Hannah Feldman. Died after being forgotten in a car by her father.
(Photo: Courtesy of the Feldman family)
Father who forgot daughter in car: 'My heart is broken into pieces'
Yedidya, the father of 1-year-old Hannah Feldman, who died after being forgotten in a vehicle, says 'the feelings of guilt are unbearable.' He met with another father who forgot his daughter in a car, and the two plan on working towards legal measures that would prevent such incidents in the future.
Yedidya Feldman, whose daughter Hannah Rina, aged one year and four months, died on Friday after being forgotten in a car by her father for about an hour and thirty minutes in the city of Beitar Illit, described on Sunday the feelings of guilt which overwhelm him from day to day.

"I have waves of a constant storm of emotions. There's a constant battle between the brain and emotion. The heart speaks of deep feelings of guilt, the heart is exploding and is shattered, but the brain understands that this is a human failure that can happen to anyone, and is ingrained in all of us," said Yedidya.

"These struggles are difficult for me," he continued. "They moves between the life that was taken from me to the new life – and I want to go on for the sake of my wife and children. I have unbearable feelings of guilt in me that scream to the skies. I very much hope that in the struggles between the pained heart and the brain that tells (us) to go on and bring about new life, the brain will win."

"I remember after the funeral I saw the comments the were written, and some were very severe," Feldman said. "Without the family's support, I would not have made it through those days, I owe them a lot."

Yedidya plans to work to increase awareness of the phenomenon of children being forgotten in cars in order to prevent future tragedies. "I have taken on, privately and publically, the task of dealing with the matter and leading an effort to pass legislation. Divine providence has brought this tragedy upom me and forced me to act on the matter in the face of society."

Among those who visited the Feldman family during the Shiva (a week-long mourning period observed by Jews for the passing of immediate family members) was Yitzhak Weingott, the father of 1-year-old Eliyah, who died after being forgotten by Weingott in a car in May. Weingott's meeting with the Feldmans was reportedly emotional and powerfull.

Beitar Illit Mayor Meir Rubinstein has instructed all relevant parties to begin an information campaign on the matter in his city, allocating special budgets for the matter.

The following are recommendations issued by Israeli child safety advocacy organization 'Beterem - Safe Kids Israel' for parents of young children in regards to this matter:

1. Every time you leave the car, make sure there is no one else inside.

2. Never leave a young child in a closed car, not even for a minute. You mean to do it for a minute, but you cant guarantee that you won't be held up for longer than that.

3. Make safe conduct part of your routine: Don't speak on the phone while with your children, as it is a distraction. Place a bag, wallet, or other important object next to your child when entering the car. Place a notification alarm on your phone for the presumed arrival time.

4. Frequently call your spouse after you finish taking your child out of the car.

5. Make sure to lock the car when parked, so that children cannot enter it and play inside.