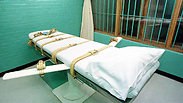 Texas execution room
Photo: AFP
EDDYVILLE, Ky. - A Jewish inmate on Kentucky's death row is suing in federal court, saying he was unfairly removed from a kosher meals program for eating an unlabeled meal of rotisserie chicken.
The Courier-Journal reports that William Harry Meece's chicken dinner violated a rule requiring people getting special meals to strictly adhere to their religious diets. That's because Kosher meals cost 72 percent more to prepare.
The Jewish Prisoner Services International ministry estimates that at least 20,000 inmates nationwide falsely identify as Jewish to get these meals.
Kentucky's Kosher Diet Participation Agreement, adopted in 2008 to settle another lawsuit, says, "I will not purchase, possess or consume any food items that are not permitted under my religious diet."
But Meece says he was born Jewish, and was a dues-paying member of a Reformed Jewish synagogue in Lexington. His lawsuit says that while Orthodox Jews are limited to food stamped "kosher," Reformed Jews can merely avoid pork and shellfish and maintain other dietary restrictions.
The Courier-Journal reports that Senior Rabbi David Ariel-Joel of one of Louisville's Reform synagogues, who holds a master's degree in Jewish Philosophy from the Hebrew University in Jerusalem, agrees with Meece and is supporting him in struggle with the prison authorities.
The Department of Corrections declined to comment to the newspaper about the lawsuit.
Meece has sued over his religious rights before. He wanted to worship in the prison chapel on Saturday - the Jewish Sabbath - rather than on Sunday. The Kentucky Court of Appeals ruled that he can pray in his cell instead.
Meece awaits execution for killing three members of an Adair County family, Joseph and Elizabeth Wellnitz and their 20-year-old son Dennis. Prosecutors said Meece and their surviving daughter, Meg Wellnitz Appleton, conspired to kill them and split the inheritance.
Appleton pleaded guilty, got a life sentence and killed herself in prison in 2014. Meece says he's innocent.