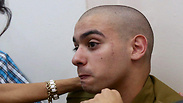 Elor Azaria.
Photo: Motti Kimchi
(Editor's note: This column was written on Sunday, July 24, 2016, and thus related to the occurrences of that day in regards to the Elor Azaria trial.)

Even those who believe Elor Azaria was in error when he shot a neutralized terrorist, and think he should be punished, had a hard time staying indifferent to his testimony in the military courtroom. He reminded us all that behind the "Hebron soldier" is a confused soldier, who may have been truly scared when seeing a terrorist up-close for the first time in his life.

Azaria surprised onlookers with his testimony on Sunday, and it seemed clear that his defense team prepared him well. He spoke on the witness stand, coherently striking back at former Defense Minister Moshe Ya'alon, IDF Chief of Staff Gadi Eisenkot, his brigade and battalion commanders, and most of all – at his company commander, Major Tom Na'aman. Azaria happened to recall two slaps given to him by Na'aman and claimed that the major even tried to cover the incident up by suggesting to Azaria that they should avoid discussing it with anyone else.

If that's so, then why didn't Azaria's lawyers ask Na'aman about it during his cross examination?

The central point of whether or not Azaria is lying when he says he shot the terrorist because he felt that he and those around him were in imminent danger will surely be the decider in this trial. But regardless, it's a trial that should never have begun in its current form.

Both sides should have accepted the recommendation of the judges and gone to arbitration to prevent the damage being done to the IDF – and specifically to the combat ranks, whose soldiers are seeing how a soldier is fighting against his commanders and vice versa, and how fellow soldiers testify against their comrade-in-arms, then go and comfort him.

And these battles aren't over yet. The defense is expected to summon two former IDF major generals to testify: Former deputy IDF Chief of Staff Uzi Dayan and former Technology and Logistics Directorate head Dan Biton. Maj. Gen. Biton is expected to testify in favor of Azaria, saying something to the effect of, "Why did you treat this soldier differently from Binyamin Brigade Commander Col. Yisrael Shomer, who shot a fleeing stone-thrower in the back? Why was he not prosecuted, like Elor is now?" He may also give his opinion on the mess at the scene of the crime and about the commanders' responsibility.

If Azaria is eventually acquitted, public faith in the IDF's top brass will deteriorate to a heretofore unknown low. If he's convicted, the IDF will be disgraced in public, and suffer great damage to its image internationally. No good can come of it either way.