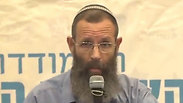 Levinstein 'clarifies' homophobic remarks with non-apology
Following a meeting with the Defense Ministry's director-general, Rabbi Levinstein sends him a letter in attempt to explain previous derogatory comments he made against the gay community; Though he did not apologize, Levinstein claims to have been misunderstood.
Head of the IDF preparatory yeshiva Eli, Rabbi Yigal Levinstein, sent Director-General of the Defense Ministry Udi Adam a letter of clarification to previous remarks he made earlier this month, in which he called members of the gay community "perverts."

Referring to his comments, which sparked a lot of criticism both from within and outside the IDF, Levinstein attempted to soften the general tone without actually apologizing for what he said.




Levinstein had already met with Adam last week who told him that his homophobic remarks were antithetical to the IDF's spirit of inclusion. Regardless, Levinstein refused to apologize.

In his letter to Adam, Levinstein wrote that he was misunderstood. "My words were misconstrued by many people, who thought that I was trying to exclude a certain part of the population or harm the idea of camaraderie that we all strive to fulfill." He continued to by saying, "Everyone has a place in the IDF, regardless of their world view or personal inclinations."

Levinstein claimed that he "was merely protesting the attempt to drag the IDF into the war of opinions that is currently being waged in society on a number of issues, with the makeup of the Israeli family unit being one. On this matter, there is a great chasm between the liberal perspective and that of those who follow the Torah. I continue to stand by my previous statement, namely that the fight over world views should be held in the public arena, and not within the army that we all hold dear."